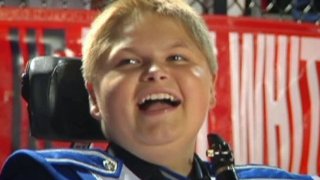 Every Friday night Allen High School fields one of the biggest and best teams in Texas. The 640 members don't care how fast you are or if you can catch a football.
All this made the Allen Eagle Escadrille marching band a perfect fit for freshman Bryan Spann.
A decade ago, Spann was diagnosed with muscular dystrophy, a debilitating condition that can make everyday life extraordinarily difficult. He's now in a wheelchair, but that hasn't kept him from his dream of playing clarinet with the band.
With one hand on his clarinet and one hand steering his motorized chair, he heads out to midfield and winds his way through all the team's synchronized steps.
"They welcomed me with open arms," Spann said. "I was a little bit worried about how it was going to work ... I was more nervous about people losing their toes more than anything."
Many people, the director and bandmates alike, wondered how a young man bound to a wheel chair would march on the field at halftime.
"Our philosophy is inclusion," said marching director Charles Pennington. "It's about participation. Come out, bring your stuff, participate and give it your all -- he [Spann] embodies that every day."
Sports Connection
Connecting you to your favorite North Texas sports teams as well as sports news around the globe.
"Every now and then when stuff is frustrating and hard for me, I do get kind of upset," said Spann. "But, you just kind of work through one thing at a time."
Spann's worth ethic has spread across the team.
"Sometimes I crawl out of bed and I don't know if I can give it my all today," said Pennington. "But I know Brian's going to be there giving it his all, every day. It's really easy to think of him and then get on your horse and go."
"I probably won't go through anything like that," said one of Spann's bandmates. "But he goes through it -- still smiles at 7 o'clock in the morning on the football field and I know I dont have an excuse to sit there and not want to participate."
Spann makes a conscious effort to inspire his bandmates.
"I would tell them to never give up and to try their best through everything. To help others the best they can and provide hope for everyone in the future,"