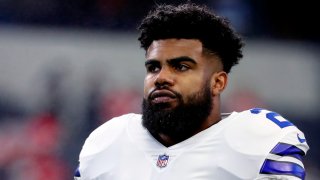 A swimming pool attendant has filed a civil lawsuit against Cowboys running back Ezekiel Elliott, seeking financial compensation after she says Elliott's three dogs attacked her and caused serious bodily harm during a March visit to his Frisco home, TMZ first reported on Friday.
Frank Salzano, Elliott's attorney, acknowledged the complaint in an email but said his client committed no wrongdoing in the alleged March 11 encounter.
"Ezekiel was in no way negligent in connection with the alleged incident and intends [to] vigorously defend the lawsuit," Salzano said in a statement.
You can read the full story from our media partners at The Dallas Morning News by clicking here.