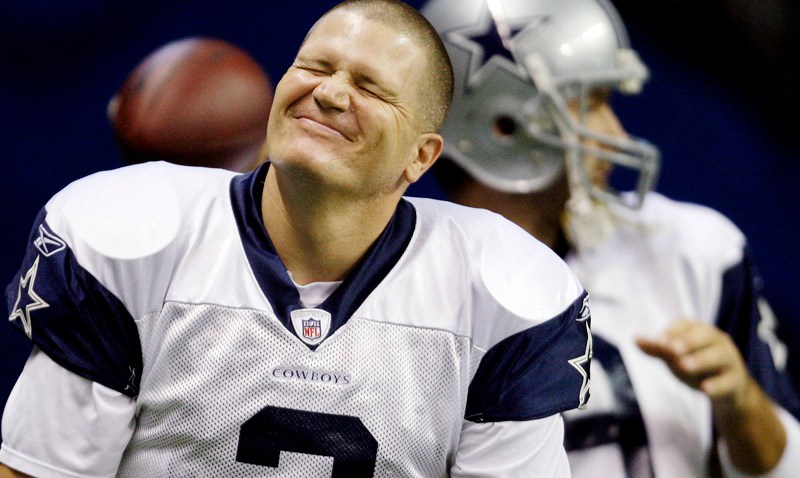 After Jon Kitna experienced some success after taking over for the injured starter Tony Romo after week seven of the 2010 season, there was a small group of fans who suggested that Kitna was actually a better option for the Cowboys than Romo. Of course, most of us dismissed the idea as preposterous--Romo is a 30-year-old Pro Bowler who the year before had led the team to its first playoff win since the days of Troy Aikman; Kitna is a 38-year-old back-up, albeit a good one, on the back nine of his career.

But at least one Cowboy believes that Kitna did enough in 2010 to earn an open shot at the starting job in 2011.

Tight end Martellus Bennett, who made an appearance on the Ben & Skin Show on ESPN Radio recently, said that he believed that there should be open competition at all positions, including quarterback--and that, for the record, he rather enjoyed playing with Kitna at the helm.

"I loved playing with Kitna," Bennett said, per NFL.com. "Kitna is one of my favorite people to play with. Just being out there on the field with that guy just makes you play even harder. He made some things happen in limited time, so I think if he got a longer chance, he'd be able to do more.

"So I hope there's a chance for a quarterback competition this year. Every position, I think we need to put more competition into it."

Not for nothing, Bennett added that he thinks that Tony Romo is "awesome."
Stay on top of the latest Dallas Cowboys news with NBCDFW.com. Follow NBC DFW Sports on Facebook or have breaking Cowboys news sent directly to your phone with Blue Star SMS alerts. Text "bluestar" to 622339 (NBCDFW) to subscribe to this free service. Read more about it here.

Copyright FREEL - NBC Local Media