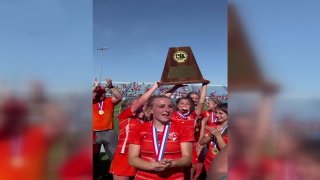 The semifinal and final rounds of the UIL Soccer State Championships are underway in Georgetown Thursday through Saturday and several local teams have a shot at a state title.
Two local schools have both their boy's and girl's teams in the finals this year, Celina and Frisco Wakeland.
The Celina girls won the Class 4A title against Midlothian Heritage on Thursday afternoon. Celina played against Midlothian Heritage where they won in a close championship game 5-4.
The Celina boys lost their championship matchup to Boerne Friday afternoon.
In Class 5A, the defending champion Frisco Wakeland boy's team advanced to the final Thursday night. Frisco defeated Dripping Springs on Saturday, 3-0 and secured their title.
Wakeland's girl's team, last year's runner-up, played Grapevine Saturday for the 5A girl's title where Frisco won in overtime 3-2.
Details on those matches are below.
Playoff brackets can be seen here.
4A GIRL'S FINAL RESULT: CELINA VS MIDLOTHIAN HERITAGE
Thursday afternoon, with goals by Taylor Zdrojewski, Madi Vana, Brielle Buchanan, and Lexi Tuite, the Celina Bobcats girls team beat the defending Class 4A State Champion Midlothian Heritage Jaguars 5-4 in a shootout in the state championship final.
5A GIRL'S FINAL RESULT: FRISCO WAKELAND DEFEATS GRAPEVINE IN OVERTIME
Thanks in part to two goals from forward Cori Cochran, Frisco Wakeland defeated Grapevine in overtime on Saturday, 3-2 and earned their third title win. Cochran was named the match's MVP.
6A GIRL'S FINAL RESULT: SOUTHLAKE PREVAILS OVER ROCKWALL
Southlake's Kennedy Fuller scored three goals in the title game to lead the dragons to win their title game over Rockwall. Fuller was named the game's MVP. This is the team's third championship.
4A BOY'S SOCCER FINAL RESULT: BOERNE REPEATS AS STATE CHAMPS, DEFEATS CELINA
The defending Class 4A State Champion Boerne Greyhounds (26-2-1) remain the best in Texas after defeating the Celina Bobcats (21-4-1) Friday afternoon 2-1 in OT. Celina's Seth Brown scored just seven minutes into the contest on a penalty kick, but the Bobcats wouldn't see the back of the net again. Boerne's Landon Murphy hit the equalizer on a corner kick and Jess Gonzales nailed the winner on a penalty kick five minutes into overtime.
5A BOY'S SOCCER FINAL RESULT: FRISCO WAKELAND DEFEATS DRIPPING SPRINGS
William Heidman, Hazani Torres and Ryan Greener all brought a goal each for Frisco's Wakeland to defeat Dripping Springs 3-0. The Wakeland Wolverines have won four of the last five state championships.
6A BOY'S SOCCER FINAL RESULT: PLANO FALLS SHORT TO AUSTIN LAKE TRAVIS
A zero-scored game that led Plano and Austin Lake Travis into double overtime with not a score still in sight. Thanks to a shootout, Austin Lakes carries the title and Plano falls short, 1-0. Adam Shantz was named game MVP with two saves and two stops in the penalty shootout-- including the game winner