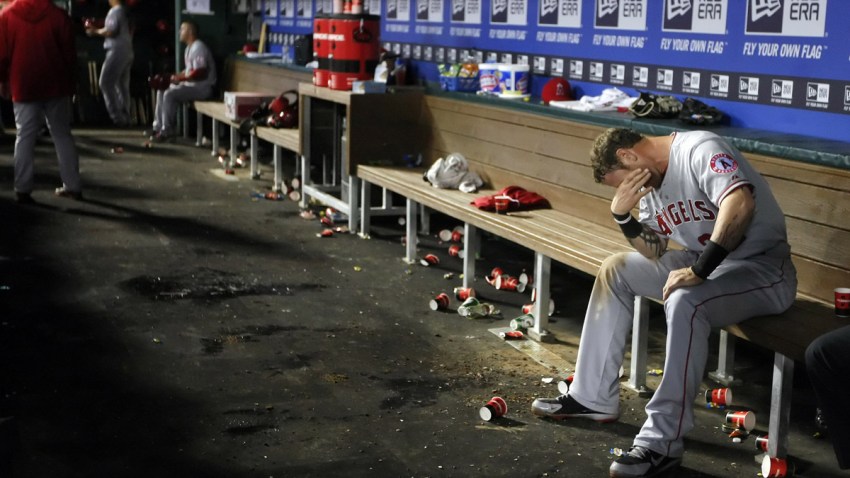 One has been called a "thug." One labeled a "hero." And one has prompted previously loyal fans to turn their backs on their favorite team.
None of them is perfect.
But they're all named Josh.
Sports Connection
Connecting you to your favorite North Texas sports teams as well as sports news around the globe.
I was reminded again last week that – admit it or not – two of the most important factors between whom we love and loathe are … religion and race. No? Then explain to me how Josh Hamilton is a sympathetic hero while the NFL's Josh Gordon is a hopeless thug and Josh Brent is a Cowboy who has managed to alienate fans.
Hamilton, the former Ranger, is at it again. Now with the Angels, he's tricking people into feeling sorry for him. Another "relapse". Another round of "addiction is a disease". And, yes, another confirmation that Caucasian + Christian = Immunity.
When Hamilton's latest substance abuse hiccup (reportedly involving "at least cocaine") was revealed last week, NBC Hardball Talk blogger Craig Calcaterra responded with a post littered with phrases like "heartbreaking," "there is no denying how far he has come and how hard he has worked to turn his life around," and the stance that the star who led the Rangers to back-to-back World Series shouldn't be suspended at all because he merely suffers from a disease.
How did Yahoo! react to Hamilton choosing to waste his second, third or maybe fourth – seriously, I've lost count – chance? With a piece titled: "Josh Hamilton Situation a Reminder of the Frailty of Man."
What. The. What?!
According to comments on my Twitter and Facebook in the wake of their mistakes, Gordon is a "no good waste of talent" and a "loser," and Brent "an arrogant drunk" who "murdered" his friend and former Cowboys teammate. And in character assassination pieces that helped chronicle their transgressions, I don't recall reading "heartbreaking" or "frailty of man."
No, it's not as simple as black and white. But Josh's Hamilton and Gordon are too similar to be treated so differently.
Both are covered in tattoos. Hamilton has 26, including a group of demons. Gordon has his name and a huge No. 12 covering the breadth of his back. Both are unique, exceptional athletes that briefly dominated their sports: Hamilton as baseball's MVP in 2010 and Gordon as the NFL's leading receiver in 2013.
And, yes, both have been suspended numerous times for substance abuse.
Yet Hamilton is America's most beloved crackhead, a man who trashed his middle-class upbringing by admitting to drunken driving, getting high and not having the faintest idea what he might have done or where he might have done it on countless foggy last nights. While with the Rangers there was that boffo binge in Tempe, Arizona where he wound up shirtless and covered in whipped cream with three women who weren't his wife. Then there was the infamous relapse at Sherlock's in Dallas. But, hallelujah, you can still buy his autobiography – Beyond Belief – and read about his inspirational sobriety.
Gordon, on the other hand, went to a Baptist school – Baylor – but refuses to call his mistakes anything more than what they are - bad decisions. In a letter to his critics, he wrote, "I am not a drug addict … nor am I a victim." After a cobblestone childhood in which his parents divorced and he was forced to move eight times before the 9th grade, he was busted for drugs at Baylor, arrested for a DUI while with the Browns and is currently suspended for the entire 2015 season after violating a prior suspension with alcohol use.
Both have laundry lists of drug-addled gaffes tucked into their considerable baggage. But with seemingly neither the right skin nor the right wing to shield him, Gordon is treated much less favorably than Hamilton.
Where I believe the hypocritical Hamilton deserves condemnation, there inexplicably lives adulation.
He's somehow the victim; his addiction the villain. Fans find his struggles so touching that they're somehow moved to treat his comebacks from self-inflicted wounds as noble triumphs. He blacks out. He betrays his wife and children and legion of fans. He's involved in racy episodes right out of The Hangover. And, in the end he's forgiven, and even applauded for his gutsy "one day at a time" fight – and relapses – against his disease.
In DFW, Hamilton is booed. But not for quitting on his Rangers' teammates or regularly abandoning his commitment to sobriety, rather for having the audacity to say that Arlington isn't a "baseball town."
Josh Hamilton constantly shoves "I Am Second" down our throats, but then ultimately puts his selfish cravings first.
He is no more a hero than Josh Gordon is a thug. In the end, both are superior athletes ... and mortal men.
Sadly, it's only the contrasting color of their skin that blinds us to the almost identical shades of their failures.
A native Texan who was born in Duncanville and graduated from UT-Arlington, Richie Whitt has been a mainstay in the Metroplex media since 1986. He's held prominent roles on all media platforms including newspaper (Fort Worth Star-Telegram, Dallas Observer), radio (105.3 The Fan) and TV (co-host on TXA 21 and numerous guest appearances, including NBC 5). He currently lives in McKinney with his wife, Sybil, and two very spoiled dogs.
Copyright FREEL - NBC Local Media