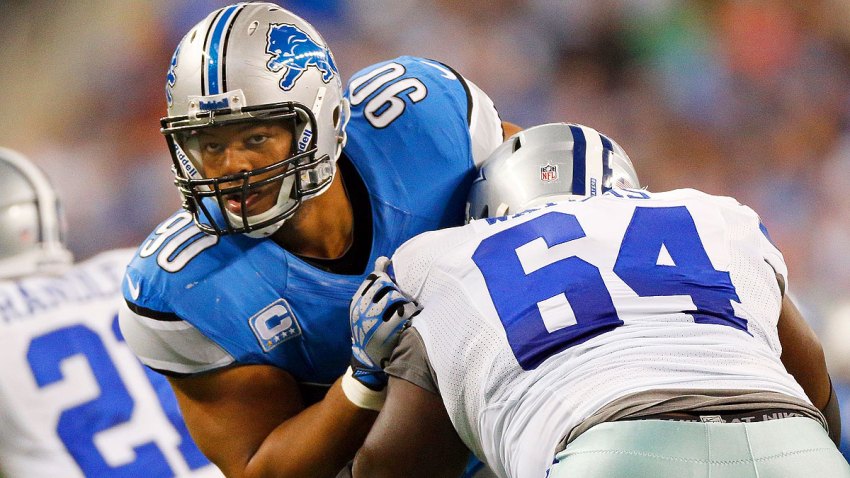 You've no doubt heard the stat that the Lions' last playoff win came against the Cowboys, but that was more than 20 years ago.
The Lions did come to town in 2011 and beat the Cowboys on a last-minute touchdown drive engineered by Highland Park product Matthew Stafford, and that is what Cowboys fans should be nervous about.
1. Lions Front Four Against the Run
Sports Connection
Connecting you to your favorite North Texas sports teams as well as sports news around the globe.
The Cowboys almost caught a major break when Lions defensive tackle Ndamukong Suh was suspended from Sunday's game for stepping on Green Bay quarterback Aaron Rodgers' leg last weekend. Maybe this reason should be "NFL appeals officer Ted Cottrell," who bought Suh's excuse of being too cold to feel himself standing on Rodgers and repealed his suspension.
Either way, Suh's playing and he's the heart of the NFL's No. 1 rush defense that held opponents to 3.2 yards per rush (first) and 69.3 yards per game (first, and 10 yards fewer than the second ranked Broncos). That all starts with Suh, who demands two blockers on nearly every play and lines up anywhere between the offensive tackles' outside shoulders.
Take the Lions stout defensive tackles and add long, athletic defensive ends like Ezekial Ansah and Devin Taylor, and the Cowboys offensive line will have their hands full with Detroit's front four. The fact that those four can consume an entire line's blocks is the main reason Lions linebacker DeAndre Levy lead the NFL in tackles during the regular season.
2. Lions Front Four Against the Pass
Detroit isn't as good against the pass as they are against the run, but that's no fault of the front four. The emergence of second-year athletic freak Ezekial "Ziggy" Ansah helped the Lions improve against the pass despite a mediocre secondary.
Ansah originally ran track at BYU, but that all changed once head coach Bronco Mendenhall heard that he ran the 200 meter dash in 21.89 seconds … at 270 pounds. Ansah has only been playing organized football since 2010, but he's starting to figure it out. He "only" notched 7.5 sacks this season, but disruption is production and his combined pressures, hits and sacks ranked him as Pro Football Focus' second-best pass rushing 4-3 end
Add in Suh's 8.5 sacks (third among defensive tackles), and you have two guys who could require up to four blockers in pass protection. The pressure Detroit can apply with only four rushers means they can drop seven defenders into coverage
3. A Second Receiving Threat
Detroit's Calvin Johnson has been the most physically gifted wide receiver in the NFL since Randy Moss's decline. His length, build and hand size give him possibly the largest catch radius in the league. He can be double or even triple covered and still be "open" enough to make a catch.
What makes the Lions offense particularly dangerous (even though they're statistically a bit worse than years past) is the addition of a second legitimate wide receiver for Stafford.
Pairing Golden Tate with Johnson (ranking eighth and ninth in receiving yards per game respectively) forces defenses to cover the entire field, which means anything less than two deep safeties is a gamble. That leaves only linebackers to cover athletic tight end Eric Ebron, redzone mismatch Joseph Fauria and dynamic running back Reggie Bush on short and intermediate throws.
If Lions offensive coordinator Joe Lombardi schemes well, the Cowboys defense will be stretched thin Sunday.
Bottom Line
Look, the Lions' defense is good. Their defensive line ranks right up there with Buffalo's and St. Louis' as the league's most productive and they'll shut the Cowboys offense down if the offensive line doesn't play its best.
For the Lions to win Sunday, though, Matthew Stafford will have to find the receivers that will be open Sunday. If he's focused and ready, the Lions will send the Cowboys to another early postseason exit.