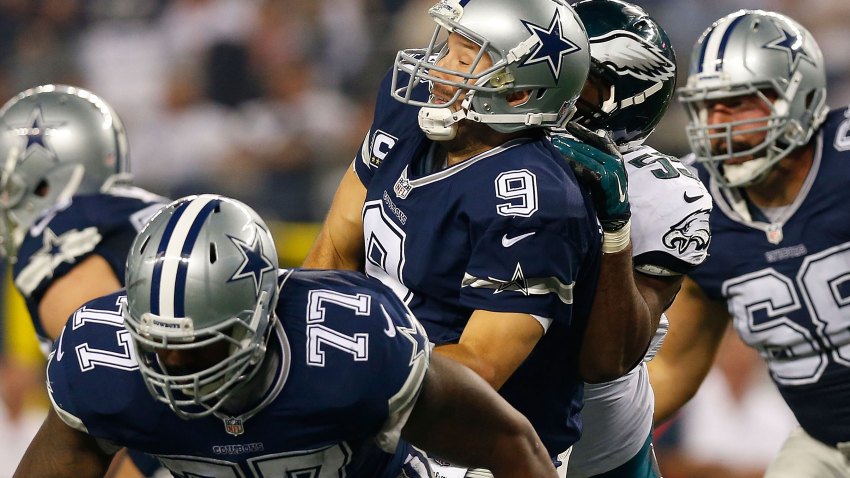 Thursday night games on the road can prove to be a daunting task, especially against an offense with so many threats to score on any given play.
Playing the potent Bears offense in Chicago in December won't be easy, but there are a few reasons Cowboys fans should rest easy about the team's second consecutive Thursday game.
1. Tony Romo's Thanksgiving Fluke
Sports Connection
Connecting you to your favorite North Texas sports teams as well as sports news around the globe.
Against the Eagles a week ago, quarterback Tony Romo had easily his worst performance since the first few weeks of the season when he clearly wasn't physically ready to play. Romo didn't play as badly as many think, though, and the interceptions he threw offered reason to expect him to bounce back this week.
The first interception was nullified by a defensive penalty, but a better throw could have resulted in a touchdown. Wide receiver Dez Bryant had several steps on the Eagles cornerback, but the high safety had plenty of time to cut off the floated throw. We'll blame the short, weaker throws that were a problem for Romo on Thanksgiving on the short week and look for him to bounce back with a full week off.
Late in the fourth quarter, Romo wanted to 6-foot-4 wide receiver Devin Street a shot at a jump ball in the end zone. An Eagles rusher came free and Romo did not step into his throw, though, which resulted in an easy interception. The Bears don't get to the quarterback as well as the Eagles (only the Buffalo Bills do), so expect Romo to have time to throw off his front foot.
For the record, the other interception is on wide receiver Terrance Williams. If Williams had broken in on the curl route as he should have (especially against two-deep coverage where the middle of the field is open), Romo's throw would have been right on target.
2. Defensive Coordinator Edge
Offensively, these teams' staffs are pretty equal. Defensively, though, coordinator Rod Marinelli has shown the ability to improve a defense with his scheme this season, (if not for his entire career) as he inherited a less talented roster than the 2013 version and has them playing slightly better.
Bears defensive coordinator Mel Tucker hasn't fared as well. While his defense is also playing slightly better than last year's, his general manager gave him significant upgrades along the defensive line and secondary.
This game might come down to which team can make a key stop, and Marinelli is more capable of scheming one.
3. A QB Prone to Turnovers
No, not Romo.
Bears quarterback Jay Cutler doesn't need help throwing interceptions, as he's thrown at least one in eight of his team's 12 games this season. His team's record in those games is 1-7. Marinelli will use his three extra off days to disguise coverages and confuse Cutler.
Interceptions aside, Chicago's offense has regressed this season because Cutler hasn't been as efficient pushing the ball downfield as he and Josh McCown did last season. Cutler has checked down more this season, which is why running back Matt Forte has only 10 fewer receiving yards than wide receiver Brandon Marshall.
Bottom Line
Being a game back of the Eagles for the division lead and currently behind in the race for a Wild Card spot, the Cowboys don't have much margin for error if they want to make the playoffs. With two games against division leaders out of four remaining, Thursday's game against the Bears is extremely important.
It's really simple this week, though. The Cowboys have a better roster and a superior game plan than the Bears. If they execute as they should, they should have no problem outscoring the Bears by a touchdown.