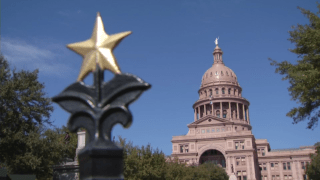 A jury found former Minneapolis police officer Derek Chauvin guilty Tuesday on two counts of murder and one count of manslaughter in the death of George Floyd.
Chauvin will face sentencing in eight weeks.
Lawmakers from around North Texas and the rest of the state reacted to the decision.
The top elected official in the state to respond was U.S. Sen. John Cornyn (R).
U.S. Sen. Ted Cruz (R-Texas) issued the following statement Wednesday morning:

"America has the finest justice system in the world. It protects due process, starts with the presumption of innocence, and requires the government to prove its case. I agreed with the prosecution bringing charges and called for Officer Chauvin to be prosecuted to the fullest extent of the law. But under our constitutional system, it is not politicians in Washington reading newspaper headlines who render a verdict in criminal cases, but rather a jury of one's peers. And in this case, the jury rendered a guilty verdict after a full trial."

"Democrats are shamelessly politically focused — aiming to incite violence in streets across America and vilifying the many selfless men and women of law enforcement with calls to defund the police. It's dangerous and hateful rhetoric and does not serve to better America or its justice system. I will continue to defend the right to due process, fight for justice for all Americans, and support law enforcement."
NBC 5 reached also out to the office of Gov. Greg Abbott but had not heard back as of 2:30 p.m. Wednesday.
Meanwhile, locally and statewide, other current and former officials weighed in, including the mayors of Dallas and Fort Worth.
U.S. Rep. Joaquin Castro (D-San Antonio) issued the following statement.

"Derek Chauvin murdered George Floyd while hiding behind the badge. Today he got the verdict he deserved.

"The guilty verdict on all counts delivers necessary accountability, but true justice depends on all of us fixing a broken policing system and preventing this horror from happening again.

"History will remember Darnella Frazier who at 17-years-old had the courage to film Floyd's murder and enabled the entire world to bear witness. Without her video and testimony, I doubt today's verdict is possible.

"I hope this moment is a turning point for policy change. The House passed the George Floyd Justice in Policing Act and the Senate should immediately send it to President Biden to sign into law.

"My heart and prayers go out to the Floyd family. In the words of Floyd's daughter Gianna, 'Daddy changed the world.'"