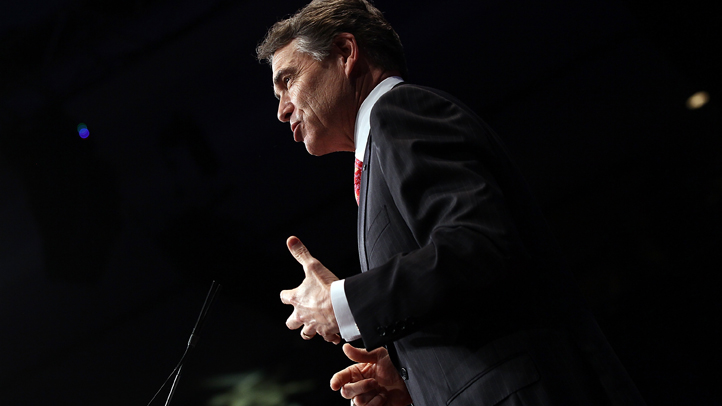 With still more than two weeks to go in Texas' legislative session, Gov. Rick Perry said Wednesday it's too early to issue ultimatums to lawmakers.
Then he promptly issued one: Pass more tax cuts or work through the summer.
Perry threatened to call legislators back after the session ends May 27 if they don't approve a budget containing $1.8 billion in tax cuts and $2 billion for major water and infrastructure projects statewide.
Politics
Politics from around the world.
"It's a little early to be drawing that line in the sand," he told reporters outside the state Capitol. "It should be no surprise that if folks want to go home at the end of this legislative session, send me $1.8 billion worth of tax relief."
"Send me a balanced budget that has no fee increases for transportation and $2 billion for infrastructure for water, and everyone can go home and enjoy their summer," Perry added.
He stopped short of saying he would veto a budget that passes both the Texas House and Senate without $1.8 billion in tax cuts -- but not by much.
In his State of the State address in January, Perry called for $1.8 billion in "tax relief," saying a booming Texas economy means the state can afford it. He also urged spending $3.7 billion in water and road improvements that he suggested could come from the state's cash reserves, or Rainy Day Fund, which is projected to reach $12 billion if left untouched.
But his calls for tax cuts have largely fallen flat since, as Perry took a largely hands-off approach to the proposals advancing in the Legislature. In fact, Perry convened a more-recent news conference to call for a slightly more-modest $1.6 billion in cuts just to the business tax, and suggested that tapping the Rainy Day Fund might be necessary to pay for it.
His comments Wednesday, however, suggest he may be ready to increase the pressure as lawmakers enter crunch time.
The House late Tuesday night approved $667 million in tax cuts for state businesses -- but only after some of the fiercest debate of what had been a relatively harmonious session. Democrats, who were ultimately outvoted by their GOP colleagues, argued the money should go to public schools which are still reeling from $5.4 billion in cuts lawmakers approved in 2011.
Perry said of the difficult vote, "they're a third of the way there." Asked if that will be enough, he replied, "$1.8 (billion) will be."
Sen. Kirk Watson of Austin, leader of the Senate Democrats, dismissed Perry's tax-cut demands as unrealistic.
"It's unfortunate that he would say something like that," Watson said.
Sen. Kevin Eltife, a Tyler Republican who has been critical of the governor's approach to water and transportation issues this session, said those should take priority over tax cuts.
"When we're struggling to find $4 billion (per year) for roads and have to take money out of the Rainy Day Fund, I don't know how at the same time you pass a tax cut," Eltife said.
As for the threat of a special session, Eltife retorted: "I happen to love Austin."
President Barack Obama will visit Austin on Thursday as part of a tour to promote job-creation and the economy. Perry said he will meet the president on the airport tarmac and let him know that "the government in Washington can be of most assistance by saying `you know what, we're going to get out of your hair. We're going to stop trying to make one size fit all."'
"I think it's a good place for the president to come to see how you create an environment where jobs can flourish," Perry said. "If the president is serious about creating jobs in this country than Texas is the blueprint."
Some pundits believe that the political winds may be changing in fiercely conservative Texas, where a Democrat has not won statewide office since 1994 but whose booming Hispanic population could change that one day soon.
Perry shrugged off such suggestions.
"We have been a red state for the last decade," he said. "We're leading the nation in the creation of jobs; we're leading the nation economically."
"Your common sense tells you, if you're going to come to the state of Texas and point us out as a model, you're going to have to be for Republican policies," Perry said of Obama. "Democratic policies are failing in those blue states."
Copyright AP - Associated Press