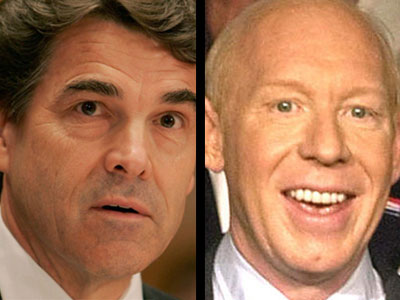 Gubernatorial foes Gov. Rick Perry and Bill White want to lead Texas in different ways. But they agree on one thing: Arizona's immigration law won't work in Texas.
Arizona's law requires local and state law enforcement to question people about their immigration status if there's reason to suspect they're in the country illegally and makes it a state crime to be in the United States illegally.
"Spending time on immigration reform before you have secured the border is frankly a waste of time," Perry said during a stop in Dallas on Friday.
Politics
Politics from around the world.
Former Houston Mayor Bill White told reporters in Grand Prairie that he doesn't like Arizona's law, and that the federal government should handle immigration issues.
"The priorities should be for our sheriff and police to arrest people who are, like, you know, committing violent crimes and other serious crimes," he said.
Perry, a big proponent of state's rights, said orders to secure the border should be coming from Washington.
"Here's my concern. You're going to have 50 different states with 50 different immigration policies, and that gets to be very cumbersome," he said. "What I'm going to do is continue to hold this Congress and administration's feet to the fire on this. Do your job. Secure our border."
White, whose campaign website doesn't mention immigration under "issues," wouldn't say if he'd push state immigration rules if he's elected governor.
"I'd have to work with the state Legislature on what the state priorities are," he said. "Certainly, we wouldn't have to cut back, but our highest priority should be to get those federal funds there."
Copyright AP - Associated Press