In light of the deadly terror attacks in Paris Friday, Texas Gov. Greg Abbott (R) said Monday the state will not accept any Syrian refugees fleeing war-torn regions in the Middle East and Africa, though an immigration official counters the governor lacks the legal authority to do so.
"Given the tragic attacks in Paris and the threats we have already seen, Texas cannot participate in any program that will result in Syrian refugees — any one of whom could be connected to terrorism — being resettled in Texas," Abbott said in a letter to President Barack Obama Monday.
Abbott's letter also urged the president to reconsider his plan to accept refugees into the United States entirely, citing a lack of background information on those looking for help.
Greg Abbott Questioned About Blocking Syrian Refugees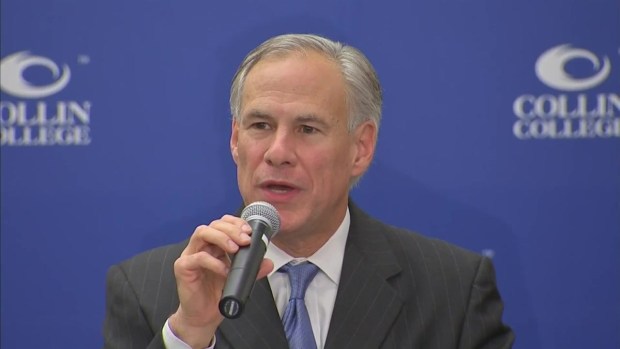 "Neither you nor any federal official can guarantee that Syrian refugees will not be part of any terroristic activity," Abbott warned. "As such, opening our door to them irresponsibly exposes our fellow Americans to unacceptable peril."
Cities Light Up Around the World After Paris Attacks
While attending an unrelated press conference in McKinney, Abbott was questioned about his letter and said he made the decision in order to keep Texans safe.
"The first and foremost responsibility of the government is to keep its people safe. We saw the way in which people in Paris were endangered and harmed, in part, by a Syrian refugee. To the extent that any Syrian refugee is allowed into the country, we are playing the same game of risk that Europe played. As Governor of the State of Texas I will not roll the dice and take the risk of allowing a few refugees in, simply to expose Texans to that danger," Abbott said.
Abbott said Texas, as well as other states, participate in refugee relocation programs. In Texas, those programs are conducted through the Health and Human Services Commission.
"As of today, the Health and Human Services Commission will not be involved in any Syrian refugee relocation," Abbott said. "We will be working to ensure Syrians won't be able to enter the state of Texas and be given refuge even through 501-c based organizations."
Abbott is among several governors choosing to close the door on an estimated 10,000 refugees seeking shelter.
According to NBC News, Alabama Gov. Robert Bentley (R) promised to "oppose any attempt to relocate Syrian refugees to Alabama" and tweeted "I will not stand complicit to a policy that places the citizens of Alabama in harm's way. We refuse Syrian refugees."
Earlier Sunday, Michigan Gov. Rick Snyder (R) said his state was halting efforts to accept refugees from Syria. Snyder said Michigan is "proud of our rich history of immigration" but that the state's "priority is protecting the safety of our residents," NBC Chicago reported.
Lavinia Limon, head of the U.S Committee for Refugees and Immigration, pointed to the Refugee Act of 1980, saying the governors cannot legally block refugees.
Texas State Rep. Kay Granger (R-TX 12th District) said in a statement Sunday that after learning "at least one of the attackers may have entered Europe as a 'refugee' reinforces my concern about the Administration's policy to increase Syrian refugees coming into the United States."
"We cannot allow Syrian refugees in the United States in the current dangerous environment. We have provided significant assistance to the refugees and nations in the region to address the crisis, and that should continue to be our response," Granger said.
Catholic Charities of Dallas issued a statement Monday that read, "We respect Governor Abbott's decision and will collaborate with the state agency involved until we have new information. We will not be accepting any Syrian refugees at this time, and wish this vulnerable population of newcomers to our community the best possible outcome when the time comes."
Texas officials estimate about 200 Syrian refugees have been resettled in Texas in the last fiscal year.
Many Syrian Refugees Already Call North Texas Home
According to the group DFW International Community Alliance, some 91 Syrian refugees already call either Dallas, Fort Worth or Arlington home.
"The people who are coming here, they are families, families with kids," said Hala Halabi, of Richardson, who helps Syrian refugees and others resettle in North Texas, providing donated food, clothes and furniture.
Nabil Kalo arrived in North Texas from Syria in 2014 and is still waiting for his wife and four children to join him from Turkey.
"There are more families who need to live safe," said Kalo.
Gov. Abbott's Letter to President Obama
NBC 5's Jeff Smith and Kevin Cokely contributed to this report.