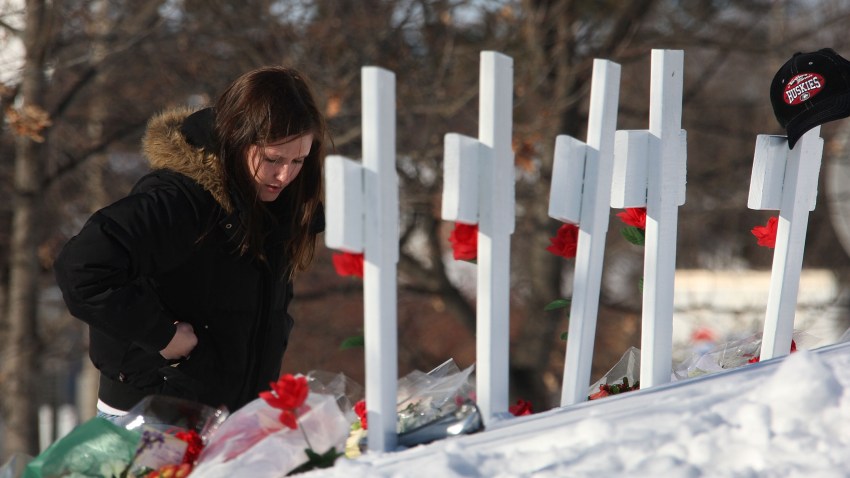 Northern Illinois University marked Friday's sixth anniversary of a campus shooting that killed five students with a moment of reflection and a bell-ringing.
School president Doug Baker said the DeKalb university "is committed to remembering and honoring the spirit" of those who were killed on Feb. 14, 2008.
Gunman Steven Kazmierczak that afternoon walked into a lecture hall and opened fire. Five people -- Catalina Garcia of Cicero, Julianna Gehant of Mendota, Ryanne Mace of Carpentersville, Daniel Parmeneter of Elmhurst and Gayle Dubowski of Carol Stream -- were killed and 21 others were injured. Kazmierczak later killed himself.
Last year, Gov. Pat Quinn attended a special memorial wreath-laying ceremony to mark the fifth anniversary of the shooting.
Administrators planned this year's event to be more subdued and only include the bell-ringing.
Officials on Friday also publicly announced the five recipients of the "Forward, Together Forward" scholarships.

The school also announced the recipients of a memorial scholarship. The university's interim provost Lisa Freeman says the scholarships are given for strong academic performance and selflessness toward others. Each scholarship is for $4,000.

This year's recipients are Kaitlyn King of Sycamore; Juan Molina Hernandez of Aurora; Lauren Noonan of Naperville; Joseph Palmer of Rolling Meadows and Christian Villalobos of Chicago.

The five recipients will be honored at a private, on-campus ceremony next month.
Copyright AP - Associated Press