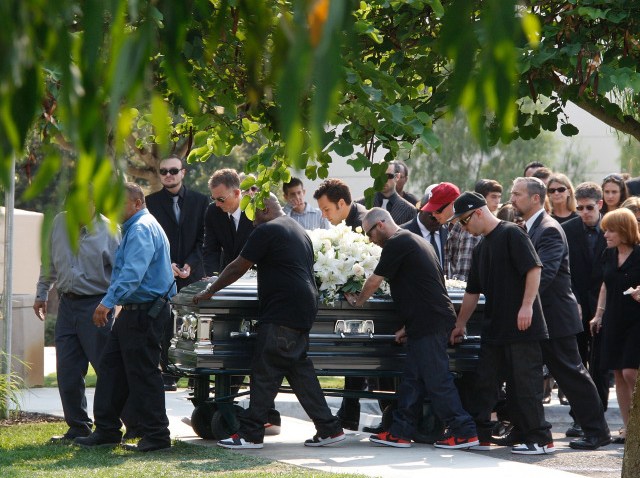 DJ AM was laid to rest during private funeral attended by ex-fiancee Nicole Riche, former band mate Travis Barker and girlfriend Hayley Wood.
Dozens of family members flocked to Hillside Memorial Park in West Los Angeles yesterday afternoon to pay respects to the celebrity deejay who was felled by an apparent drug overdose in New York City last week.
The celebrity deejay -- whose real name is Adam Goldstein -- was honored by Barker, a former member of the band Blink 182 who reportedly tossed dirt on Goldstein's coffin after paying respects. He and Wood then walked side by side with Goldstein's family, MTV reported.
The funeral was held under a canopy toward the rear of the cemetery, which is one of the city's most prominent Jewish graveyards, E! News reported.
A memorial for Goldstein will be held on Thursday night at the Hollywood Palladium in Los Angeles -- on the same stage where he and Jay-Z played a month after he and Barker survived a plane crash in Southern California last year.
Goldstein, 36, was found dead last week in his New York City apartment of an apparent accidental drug overdose, though there is no official cause of death.
As Goldstein's friends and family paid their final respects, questions loomed about the future of the deejay's assets. Goldstein is said to be worth about $1 million but left no will.
His mother, Andrea Gross, filed court papers in an effort to have herself named as the sole heir to his estate. Goldstein reportedly had $3.5 million in property, $400,000 in personal assets and debt totalling $2.9 million. He left no will or indication of how he wanted to distribute his fortune, according to E! News.
A hearing is slated for Oct. 7.