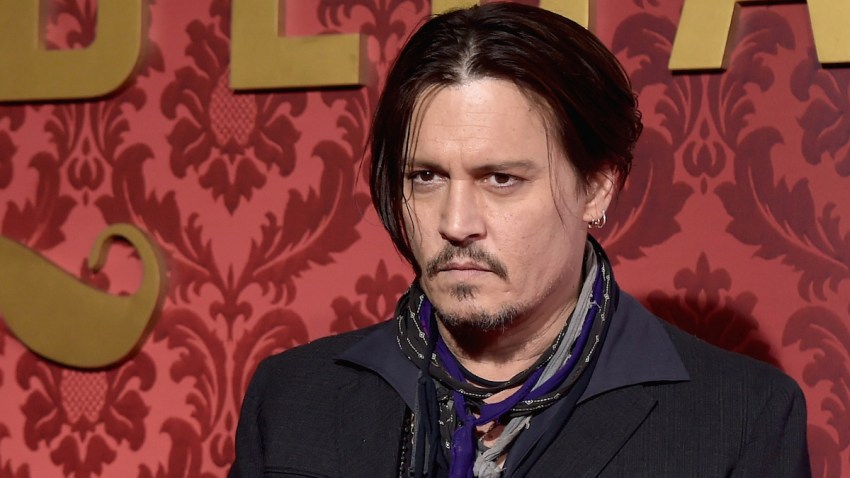 Johnny Depp injured his hand while on location in Australia for the fifth "Pirates of the Caribbean" movie, "Dead Men Tell No Tales," E! News confirmed Tuesday.
The 51-year-old actor was photographed at Brisbane Airport with a bandage on his right arm Wednesday. The actor flashed a gold tooth as he smiled for photographers on the tarmac.
Depp was not filming at the time of the incident, and the movie's release date will remain July 7, 2017, E! reported.
According to The Wrap, production should be "minimally impacted" by Depp's injury.
"Pirates of the Caribbean" began shooting its fifth installment last month. Espen Sandberg and Joachim Ronning are directing the movie, which will film entirely at Village Roadshow Studios and on locations within Queensland, Australia. According to Walt Disney Pictures, production will wrap later this summer.
VIDEO: Johnny Depp wears his Jack Sparrow costume fairly often
Depp is reprising his Oscar-nominated role of Captain Jack Sparrow. Other returning actors include Geoffrey Rush (Barbossa), Kevin R. McNally (Joshamee Gibbs) and Stephen Graham (Scrum). Javier Bardem, Golshifteh Farahani, Kaya Scodelario and Brenton Thwaites round out the fifth film's cast.
Jerry Bruckheimer is producing the latest entry in the $3.7 billion franchise, inspired by the Disney Theme Parks attraction. Chad Oman, Joe Caracciolo, Jr. and Brigham Taylor are executive producers.
Last month, Walt Disney Pictures revealed plot details to much fanfare. "Thrust into an all-new adventure, a down-on-his-luck Captain Jack Sparrow finds the winds of ill-fortune blowing even more strongly when deadly ghost pirates led by his old nemesis, the terrifying Captain Salazar (Bardem), escape from the Devil's Triangle, determined to kill every pirate at sea...including him," the movie studio told E! News in a statement. "Captain Jack's only hope of survival lies in seeking out the legendary Trident of Poseidon, a powerful artifact that bestows upon its possessor total control over the seas."
While promoting "Pirates of the Caribbean: Stranger Tides" in 2011, Depp told E! News why he hasn't tired of Jack Sparrow. "I just love playing the character. Kids of 5, 6, 7 years old...You meet people of 50, 55... You meet people of 80, 85...And they all take away something form the films and the character. That's such a boost. It just feels like, for me as an actor, there's a lot more with the character that I can do."
PHOTOS: Movie stills from "Pirates of the Caribbean: On Stranger Tides"
Copyright E! Online