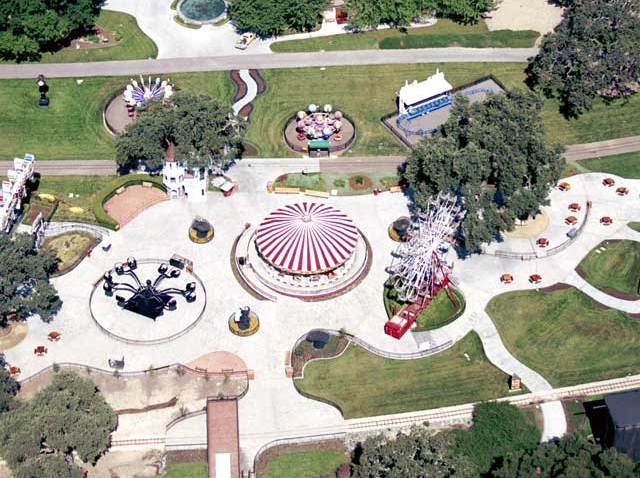 A Ferris wheel that once provided a birds-eye view of Jackson's Neverland Ranch has been providing rides for carnival goers throughout middle America this summer. Archway Amusements, a company based in Missouri, bought the 65-foot tall Ferris wheel last year.
"We ourselves really didn't advertise (that it belonged to Michael Jackson)," said Theresa Noerper, co-owner of Archway Amusements.
But Noerper said since Jackson died, "There's no keeping secrets, then."
Jackson reportedly paid $215,000 for the Ferris wheel in 1990 and took the first ride on it when it was installed at Neverland. It stayed there during Jackson's molestation trial in 2003, where he was accused of molesting a 13-year-old cancer survivor at the ranch.
Even though he was acquitted, the scandal drove Jackson from Neverland. The property fell into disrepair and many of his assets, including the amusement rides, were sold.
Last week, the wheel was at the Baxter County Fair in Arkansas. Next stop, this week's Northeast Arkansas District Fair in Jonesboro.
Casual passers-by see no reference to Jackson. A metal stamp shows the Ferris Wheel was made by the Eli Bridge Company of Jacksonville, Ill. However, metal molding around the seats remains a unique shade of pinot-noir red that Jackson special-ordered from the manufacturer.
As for its popularity, the Ferris wheel is no thriller for carnvial fans. When Jackson died June 25, police were concerned that mourners might turn the ride into a makeshift memorial.
"They come to take pictures, a couple tears and everybody likes to ride it," Noerper told The Associated Press.
And it's tough for a Ferris wheel to compete for ride tickets when it's lumped in with thrill rides like Pharaoh's Revenge, the Sizzler and the Hot Shot.
"They're not big moneymakers anymore, because they're so slow and you have to load them," Noerper said. "It's more of a nostalgia piece than anything."
A liquidation sale scattered many of Jackson's rides from his ranch in the oak-studded hills 120 miles northwest of Los Angeles. A California-based company, Butler Amusements, bought five other rides from Neverland, including the Lolly Swing, which has been featured at a variety of fairs and carnivals.
Copyright AP - Associated Press