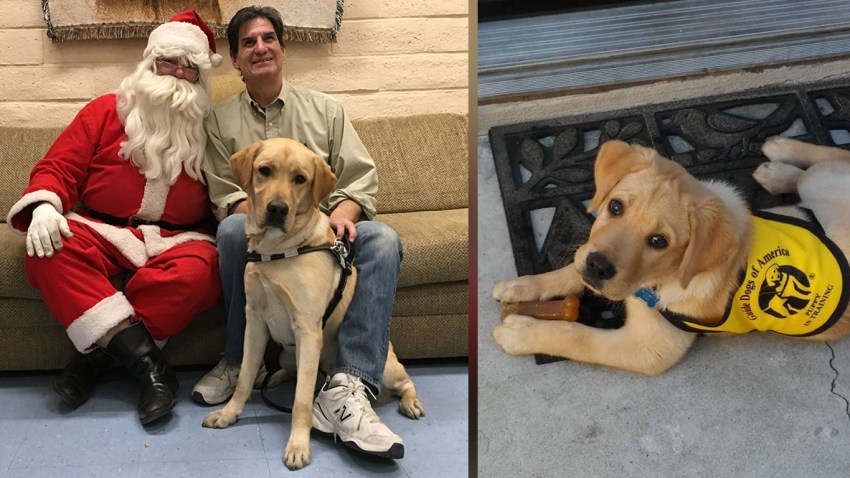 Nine guide dogs and their handlers are going home together for the holidays, sharing the gift of a special bond.
The nine new teams were part of the Guide Dogs of America's 401st graduating class. They've been training together for weeks at the organization's Sylmar campus, working toward Saturday's emotional graduation ceremony.
Adam Lawrence and Ollie, his second dog trained by GDA, were are among the graduates. Lawrence went back to using his cane after the retirement of his first guide dog, but decided it was time to meet a new companion.
"I don't know what the heck I was thinking," Lawrence said. "I was going bonkers without a guide dog. I'm so happy to be here with my new dog, Ollie. Coming back to GDA has been such a wonderful experience."
GDA accepts about 60 students per year after receiving applications from throughout the United States and Canada. Training on the Sylmar campus for 21 days, blind and visually impaired students and their dogs are matched at no cost to the client and acquire skills they'll use to navigate daily life with confidence.
But before all that, someone has to make sure the dogs get a good start. That's where GDA volunteer puppy raisers come in.
Puppy Ollie was raised by Becky and Mark Robelotto of Torrance.
"We're so happy to know Ollie is doing what he was born to do," said Becky Robelotto. "Everyone always asks us how we could raise a puppy, only to give it up, but when you see the wonderful teams here today, the real question is, 'How can we not give them up?'"
If helping others is your New Year's resolution, consider this -- GDA is looking for new puppy raisers to open their homes to a guide dog puppies in training.
To learn more about the process, click here. To apply, click here.