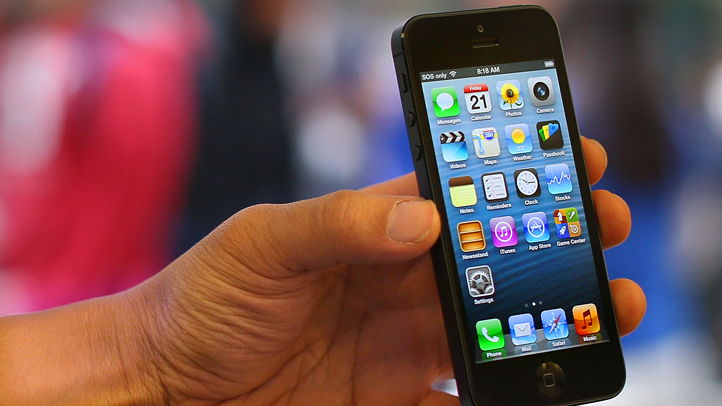 Cell phone thieves accustomed to turning big profits on stolen devices may soon find themselves out of business as a new national system comes on line to render any phone reported stolen permanently inoperable.
That may be small comfort to anyone with a missing phone now. But authorities expect the new system—a shared database of stolen phones—will vastly cut down on cell phone crime, which by one estimate makes up at least a third of all robberies.
The database "could probably kill this black market pretty quick," said Kenneth Angarone, a Chicago police commander who until recently ran a downtown precinct where much of the city's smartphone crime occurs. "You take away the black market and you take away the issue."
The first phase of what advocates hope will grow into a nationwide effort to track pilfered devices, involves AT&T and T-Mobile. On Oct. 31 the two carriers, which operate on the GSM network, began sharing records on all devices reported lost or stolen to prevent them from being reactivated.
Verizon and Sprint, which operate on the CDMA network and maintain their own individual blacklists, will merge their data into a more comprehensive database by November 2013. That will give the country's four major carriers access to a nearly complete roster of phones reported stolen in the United States.
It's a big change, and one authorities welcome.
Until recently, most phones operating on GSM technology have been tracked by their SIM cards, which can easily be tossed. The new joint database will track the handsets themselves, through a unique identification number, akin to a car's VIN.
"What the database does is to try to make the hardware a useless two-ounce piece of plastic and metal," said Chris Guttman-McCabe, vice president of regulatory affairs for the CTIA, an industry trade group.
Thirty to 40 percent of all robberies in major cities involve cell phone heists, according to FCC data released last spring, with iPhone crime topping the charts. Asurion, the insurance giant that provides coverage for Verizon, Sprint and T-Mobile wireless customers, saw a 140 percent spike in smartphone claims between 2009 and 2011, with iPhones representing more than half of all lost or stolen phones last year.
One police chief's quest
These sorts of statistics prompted Cathy Lanier, chief of police in Washington D.C., to spearhead a nationwide initiative to weaken the black market that's been fueling the crime wave.

Her efforts began in May 2011 when her morning review of crime reports showed a dramatic spike in stolen iPhones in her city.

"I kept reading over and over, not just about robberies, but robberies in all different areas of the city in which they were specifically asking victims for their phones" Lanier said. There were snatch-and-grab crimes, armed holdups and even cases of masked gunman storming retail shops, bypassing the cash registers and demanding boxes of iPhones.

Alarmed, she sent an email blast to police commanders in other cities asking if anyone else was having the same problem. Immediately, the responses poured in.

"This is a nationwide problem here," she remembers thinking.

As Lanier and her staff continued researching the issue, they noticed that authorities in the United Kingdom had thwarted a similar problem by developing a national blacklist that prevented the thieves from activating phones that had been reported stolen. She wondered why there was no such database in America and began mustering police executives to lobby telecommunications carriers to create one.

The carriers had to be on board, she believed, for the crime wave to end. The stolen-car epidemic of the 1980s and 1990s, Lanier pointed out, only ended when carmakers began including technology that made new cars "nearly impossible" to heist.

The response from the phone companies, however, was disappointing.

"They entertained us a little, but I didn't think they were really getting our sense of urgency, to put it lightly," Lanier said.

She took her case to local news publications and the FCC, and was eventually invited on the "Today" show in March, where she blasted the wireless companies for putting profits over the safety of their customers. "Shame on you," she said on the show. "This is something that's fixable. It's not all about profit."

Visit NBCNews.com for breaking news, world news, and news about the economy

Just a month later, nearly a year after Lanier's initial requests, the telecommunications companies finally agreed to phase in a centralized database.
Leading up to the launch, smartphone crime in her city and others remained a problem. In September, the NYPD announced a 40 percent jump in the theft of Apple products, year over year, and a joint effort with the city's Metro Transit Authority to hide decoy cops on subway trains where muggings frequently occur. The same month in Las Vegas, police announced that they had busted two snatch-and-grab cell phone rings that "were making a living" off their crimes, according to spokesman Sgt. Bill Cassell. And in Chicago the release of the iPhone 5 was met with beefed up security to prevent "apple-picking."

Apple serves as a leader
Throughout the crime wave, Apple's "Find My iPhone" application has been one of the most successful tools for tracking down phones once they've gone missing, and one that cell carriers are urging their customers to use. Apple has trained some police departments, like the Chicago police department, in using the tool, which can pinpoint the location of a stolen device using GPS technology.

Det. Sgt. Daniel Herrington from Florida's Port St. Lucie Police Department recalls recently using the app to track a stolen phone that went missing at a high school volleyball game the night before.

Herrington and his partner, using login information provided by the victim's father, activated the tool and were given an address.

"We drove right to the kid's house and knocked on his door," Herrington said. "He answered and said, 'is this about the iPhone?"

While the app has been a godsend to the millions of Apple customers who lose their phones each year, it's still a reactive tool and not one that attacks the source of the crime problem the way the database might—particularly once it expands in 2013 to include devices operating on the LTE network, which is used beyond the United States.
The FCC and Mexican government agreed this month to share their expanding databases, a step that authorities hope will curb the smuggling of stolen phones across the border.

Commander John Graeber of the Chicago Police Department's transit division expressed optimism about the blacklist shortly before AT&T and T-Mobile synched their databases. "The word is going to get out there really quick when that guy I sold to wants to get it re-upped and it's dead weight," he said. "I'm very anxious to see this go into place."

Still, security experts warn that more sophisticated thieves, including members of organized crime rings, will figure out ways around the database—how to mask stolen phones' electronic fingerprint, for example.

"It's not a silver bullet," said Dana Adams, a telecommunications security consultant based in Canada. The database "is a tool to focus on petty crime and hopefully it will grow into a national database." But some crime, Adams said, will persist. "There's too much money in it."