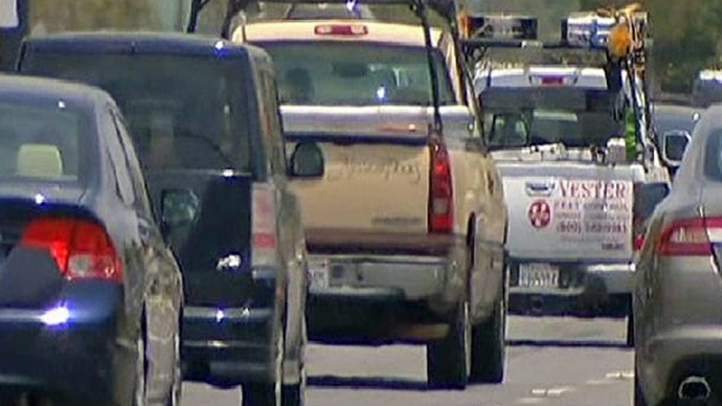 Multiple road construction projects may snarl North Texas traffic this weekend as lanes close on Interstate 635, Woodall Rodgers, State Highway 114 and Interstate 30.
I-635 at Montfort:
The Montfort bridge was closed over Interstate 635 Saturday in both directions due to working demolition crews. It will stay closed until 6 p.m. Sunday.

Find additional information here.
Eastbound I-30:
Crews will close all three lanes of eastbound I-30 from Zion Road to Bass Pro Drive in Garland and route traffic to a frontage road from 9 p.m. Friday to 4 a.m. Monday.
Local
The latest news from around North Texas.
Additionally, the right and center lanes of I-30 eastbound from Gus Thomasson to Galloway in Mesquite will be closed from 9 p.m. Friday to 5 a.m. Monday.
Woodall Rodgers Freeway:
Alternating lanes of eastbound and westbound traffic will be closed as crews work on the deck park nightly from 9 p.m. to 6 a.m. through Oct. 1.
SH 114:
The Texas Department of Transportation said work Friday night on the DFW Connector project was postponed and announced new closure times.
The westbound ramp from SH 114 to SH 121 and I-635 will be shut down from 5 p.m. Saturday to 6 a.m. Monday as crews work on a bridge. Traffic going to northbound SH 121 or I-635 will be routed to Texan Trail.
The William D. Tate bridge, including the northbound SH 121 off-ramp to William D. Tate Avenue and Main Street will be closed from 8 p.m. Saturday to 6 a.m. Monday.
Eastbound SH 114 will be closed from State Highway 26 to east of William D. Tate Avenue from 8 p.m. Saturday to 6 a.m. Sunday.
Attendees of Grapevine's Grapefest are encouraged to visit the city's official site for more instructions on avoiding road construction in the area.