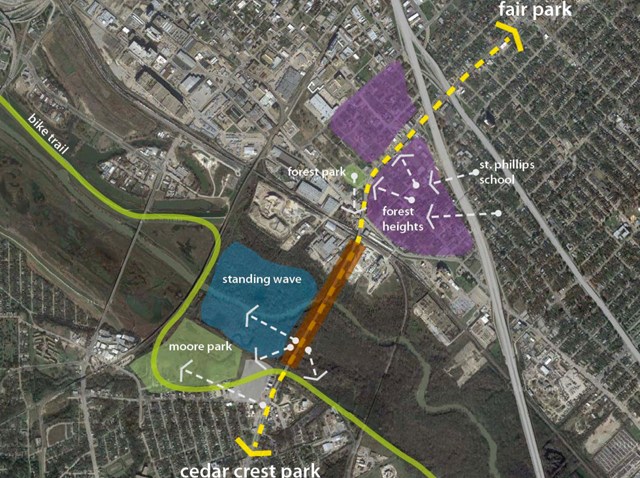 Plans for a Martin Luther King Boulevard gateway to the planned Dallas Trinity River Park are evolving into something more expansive.
Dallas planners now envision an improved pedestrian and bicycle path along Martin Luther King Boulevard that would provide access to Trinity Park, as well as link with Dallas Fair Park.
The walk and bike path would use dedicated lanes over the Martin Luther King bridge across the Trinity River.
Local
The latest news from around North Texas.
A Dallas Area Rapid Transit rail station has opened on the Fair Park end of Martin Luther King Boulevard, but the street still runs through a neighborhood that could use a boost.
"As you look, everything is vacant," said resident Jerry Allison. "It's a beautiful city, man, but seems like it's just neglected. And you see, most businesses are getting abandoned."
Brent Brown, of the city of Dallas Design Studio, is one of the city planners behind the new approach replacing a gateway that was to be limited to one location.
"As we take a look at that single place, how does it serve as a connector or a link to other assets? And so it's Fair Park to the Trinity River," he said.
The plans were developed with input from community leaders and unveiled for the first time Tuesday at the Dallas City Council Trinity Corridor Committee meeting.
Councilwoman Carolyn Davis, who represents much of the area, praised the plan.
"This is truly a transformation for that bridge coming into Oak Cliff," she said.
"I think this will be a catalyst for a start as we move back from Martin Luther King into Fair Park," she said.
Councilman Dwaine Caraway has been critical in the past that Trinity Project beautification plans for Riverfront Boulevard did not extend further south than Cadiz Street.
He said the new talk for a Martin Luther King Boulevard project is good progress for the southern sector of Dallas.
The City Council voted last week against permits for a metal-recycling business that has been operating at the southern end of the Martin Luther King Boulevard Bridge.
The recycling property, also near the Trinity Forest and proposed parks, is zoned for community retail, not industrial, land use.
"With the cleaning up of that particular area now, it now allows some opportunity for some quality retail to come into that area," Caraway said.
Dallas voters first approved the Trinity River Project in 1998 with a combination of parks, levees and a new highway along the river.
The 1998 bond financing included $2.8 million for a Martin Luther King Boulevard Gateway.
The city now plans to spend $54.5 million on the Riverfront Boulevard Beautification, so the Martin Luther King project lags far behind on funding.
"Hopefully, the planning will continue, and the planning will begin to turn into results," Caraway said.
City officials promised additional community meetings to refine the plans as they coordinate money to a Martin Luther King Boulevard Gateway between the Trinity River and Fair Park.