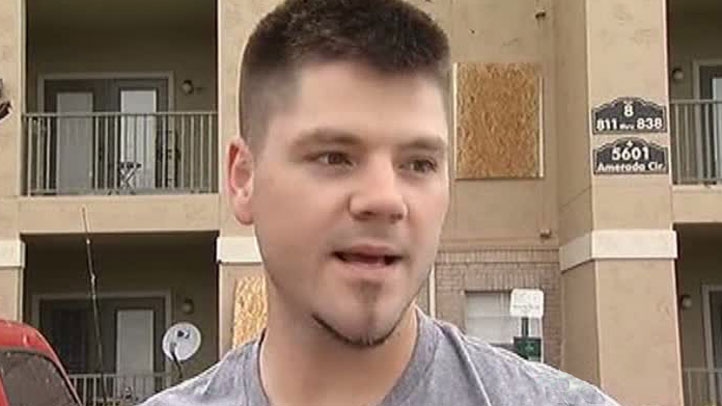 Arlington residents shared stories of survival after a powerful tornado hit three areas of the city, damaging more than 400 homes.
The tornado damaged 72 units at the Chesterfield Apartments where three buildings were condemned after the storm. Several cars were also smashed and buried beneath fallen trees.
Devastated neighbors shared stories of survival while remaining positive about the uncertainty and clean up ahead.
Local
The latest news from around North Texas.
"I went down, ducked down with my wife and son and said, 'Please God, keep us safe,'" said Zachary Harbin, who lives in the apartment complex.
Harbin took action to protect his wife and their one year old son as a tornado barreled toward his family's home.
"I saw all the debris flying. The windows started to shake. I decided to throw the mattress against the window. All the windows broke. The mattress kept the glass from flying everywhere," said Harbin.
The family emerged from their apartment after the storm to see the devastation.
"It's like you just woke up from a war zone. It's devastating," Harbin said. "I saw my van had been moved, a red car picked up and thrown next to the tree. I was just in terrible shock. I have a whole new respect for nature after all this," said Harbin.
"I saw this (damage) and thought, 'uh oh,'" said Arlington resident Jim Pinker.
Hundreds of homes in Pinker's Oldfield neighborhood are damaged. Trees tore through his roof and shattered his windows.
"One side will probably have to be torn down and fixed up," said Pinker.
The tornado picked up his neighbor's RV. It landed in his front yard, which is three houses away. "If you've ever had a load of hay fall on you, you know how I feel," said Pinker.
His neighbor, Olivia Wheatley and her husband, hunkered down in their basement. They're thankful to be alive.
"It's not my time to go. I have something to accomplish," says Olivia Wheatley.
Just blocks away, Green Oaks Nursing and Rehabilitation Center was also hit by the twister. One resident was taken to the hospital with injuries while 35 people had to be moved to other facilities.
Assistant fire chief Jim Self said the nursing home had an emergency plan, followed it, and thankfully, it worked.
Mayor Robert Cluck declared a state of disaster for the city on Tuesday.