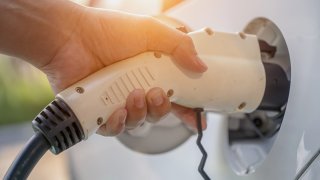 The U.S. has never been more serious about transitioning to clean energy on roadways. But is Texas serious about it?
According to our media partners at The Dallas Morning News, a Biden administration plan aims to shift 50% of passenger vehicle sales in the U.S. to electric vehicles by 2030, rather than cars and trucks running on fossil fuels. To accomplish this, the administration has pushed legislation providing a slew of tax credits for EV purchases as well as funding for infrastructure.
It's an ambitious plan — the success of which will depend partly upon the buildout of a $7.5 billion nationwide network of charging stations with funding from the recent infrastructure bill passed by Congress.
Texas will receive $408 million of that funding for charging stations, and could apply for additional grants from a $2.5 billion pool. Experts see additional, faster-charging stations placed strategically around the state as a way to persuade more consumers to buy electric.
Click here to read more from our media partners at the Dallas Morning News.
Copyright The Dallas Morning News