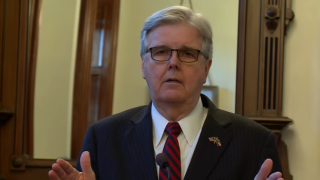 Texas Lt. Gov. Dan Patrick says the Senate has taken the legislative action requested by Gov. Greg Abbott to correct ERCOT pricing errors and hopes the governor will consider the bill.
Earlier this week it took the Texas Senate less than three hours to file and completely pass a bill that would allow Texas' Public Utilities Commission to reclaim $16 billion in charges for wholesale electricity incurred during the state's power outage last month.
According to the Independent Market Monitor, ERCOT incorrectly extended that pricing intervention after the power shortage had ended, according to a statement from the Lt. Governor's office.
On Wednesday, Patrick said he'd asked Attorney General Ken Paxton's legal opinion on the power to act in correcting the Electric Reliability Council of Texas' (ERCOT) pricing errors during last month's winter storm:
Texas News
News from around the state of Texas.
"I had no doubt that asking the Public Utilities Commission (PUC) to direct ERCOT to correct their pricing errors was not in conflict with the law or the Texas Constitution and I am pleased that Attorney General Paxton has affirmed that the PUC has "complete authority" to act. Correcting ERCOT's pricing errors is essential to save Texas ratepayers at least $4.2 billion and it is the right thing to do. The Texas House should move as quickly as possible to pass legislation and send it to Gov. Greg Abbott's desk. The clock is ticking."