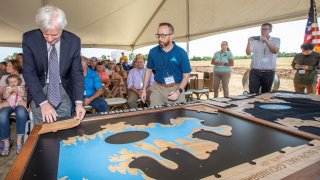 Construction began Wednesday at Texas' newest lake: Lake Ralph Hall, which will provide drinking water to people in Collin, Denton and Fannin counties.
The Upper Trinity Regional Water District held a groundbreaking ceremony at Lake Ralph Hall, located in Fannin County just outside of Ladonia, about one and a half hours to the northeast of Dallas.
Lake Ralph Hall will also provide recreational activities including boating, fishing, hiking and hunting, the UTRWD, a state government agency providing water utility services, said in a press release.
According to a UTRWD website, water delivery at Lake Ralph Hall is scheduled to begin in 2025. The 7,600-acre lake will provide an additional 35 million gallons daily once complete, the UTRWD said.
The estimated cost of the project is around $490 million, according to UTRWD estimates.
The lake is the second to be built in Fannin County in recent years.
Just last month, after three years of construction and more than a decade of planning, Bois d'Arc Lake (pronounced bo-dark), which includes a two-mile-long dam and covers roughly 26-square miles, marked a major milestone in April when gates inside its water intake structure closed, allowing the lake to begin filling up.
With all the rain that fell in May, the lake was up to 23 feet in just a few weeks.