S Band Radar & Maps | Forecast | Weather Alerts
Traffic | Send Us a Photo/Video | Live Cams
There's no doubt it's been an active tornado season across the country. Many states have already exceeded their yearly tornado average, and the season's not over yet.
Texas typically records between 140-150 tornadoes per year. This year, however, we've already seen 143 across the Lone Star State.
Here in North Texas we typically average 25 tornadoes per year. This is where our current total stands through May 30. This includes the eight tornadoes from Wednesday's outbreak.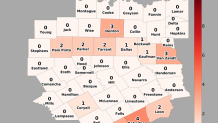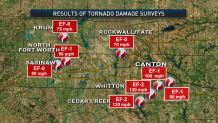 The statewide total of 143 is enough to take the top spot (through May 30). This really shouldn't come as a surprise as Texas usually takes top honors due to its size and proximity to Tornado Alley.
Stay Safe During a Hail Storm
At Home?
Head indoors immediately
If time allows, close all drapes, blinds or shades to prevent broken glass from entering your home.
Stay away from windows and skylights (any exterior glass) and head to a safe location inside your home, ideally only with interior walls.
Outdoors?
Cover your head and seek shelter indoors immediately.
If you are trapped outside, get to a low-lying area and try to protect your head. Use clothing if it all you have.
Driving?
Stay inside your vehicle.
Slow down or pull over and stop at a safe location. DO NOT stop under a highway overpass. You may be protecting your vehicle, but you could be forcing other people to stop behind you.
Turn your back to windows or cover yourself with a blanket, coat or spare clothing to protect yourself from breaking glass.
If you have a sunroof, try to find something to protect your head.
Based solely on square miles, Texas is much farther down the list. In fact, per square mile, the top spots go to Mississippi, Alabama, Missouri, Oklahoma and Kansas.
The map below shows the tornado tally for each state. After a very quiet tornado season in 2018, clearly, Tornado Alley is living up to its reputation here in 2019. The Southeast has also seen its share. Even some unusual locations like Delaware, Oregon and Arizona have recorded tornadoes this year.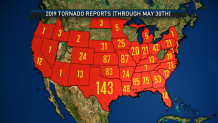 The nationwide total so far is 1,008. In a normal year, the average is just over 1,200 for the entire year.
The latest video forecast from NBC DFW team of Weather Experts will appear in the player above. Keep up with the latest changes to the weather by downloading the NBC DFW smartphone App for iOS and Android!
Tornado season runs from March through early June. Although, for the northern states, tornado season stretches well into the summer as the pattern shifts north.
We hope the worst is behind here in North Texas as we head into the summer months. However, we will remain ever vigilant as it's possible to get tornadoes anytime of year when the ingredients come together just right.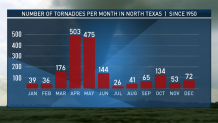 ---
---