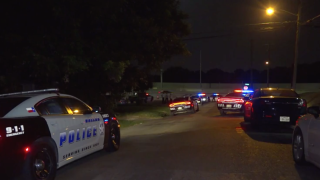 A teenager is dead after a shooting in Dallas on Friday night.
According to the Dallas Police Department, officers responded to a shooting call at 300 South Storey Street at approximately 7:25 p.m.
Police said the incident began when three males were inside an SUV, one of whom was playing with a gun.
The 16-year-old suspect, who was sitting in the rear passenger seat of the vehicle, accidentally fired the weapon, shooting the 17-year-old in the front passenger seat in the back torso.
The victim, identified as Chadrick Good, was transported by Dallas Fire-Rescue to an area hospital, where he died from his injuries.
According to Dallas police, the 16-year-old suspect will be charged with manslaughter.