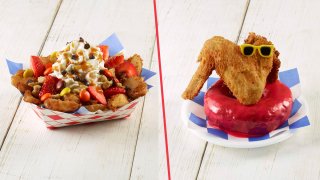 The State Fair of Texas has announced a special version of the Big Tex Choice Awards for 2020 Fair Food Madness: Big Tex Choice Awards Championship.
The first of five voting rounds opening Tuesday on BigTex.com/Madness, allowing fans of the fair to vote for their favorite previous Big Tex Choice Awards winners.
According to the officials with the State Fair, the competition will take place entirely online this year.
The Big Tex Choice Awards were first held in 2005. Each year, State Fair concessionaires create unique foods in an effort to become a finalist in the annual food competition.
The 2020 Big Tex Choice Awards will be a showdown of the previous 32 winners, and the winner of this year's competition will be announced October 13 on the State Fair Facebook page.
Here is a list of the participants in the 2020 Big Tex Choice Awards Championship:
Abel Gonzales: Fried Peanut Butter, Jelly & Banana Sandwich (2005)
James Barrera: Viva Las Vegas Fried Ice Cream (2005)
Abel Gonzales: Fried Coke (2006)
Shirley London: Fried Praline Perfection (2006)
Jake Levy: Deep Fried Latte (2007)
Abel Gonzales: Texas Fried Cookie Dough (2007)
Glen Kusak: Chicken Fried Bacon (2008)
Alan Weiss: Fried Banana Split (2008)
Abel Gonzales: Deep Fried Butter (2009)
Winter Family Concessions: Fernie's Deep Fried Peaches & Cream (2009)
Mark Zable: Fried Beer™ (2010)
Nick Bert: Texas Fried FRITOS® Pie (2010)
Alan Weiss: Buffalo Chicken in a Flapjack (2011)
Justin and Rudy Martinez: Fried Bubblegum (2011)
Abel Gonzales: Deep Fried Jambalaya (2012)
Butch Benavides: Fried Bacon Cinnamon Roll (2012)
Isaac Rousso: Deep Fried Cuban Roll (2013)
Justin and Rudy Martinez: Fried Thanksgiving Dinner (2013)
Clint Probst: Fried Gulf Shrimp Boil (2014)
Justin and Rudy Martinez: Original State Fair Brew-Funnel Cake Ale (2014)
Winter Family Concessions: Fernie's Holy Moly Carrot Cake Roly (2015)
Isaac Rousso: Smoky Bacon Margarita (2015)
Isaac Rousso: Cookie Fries (2016)
Ruth Hauntz: Fried Jello (2016)
Tom Grace: Funnel Cake Bacon Queso Burger (2017)
Clint Probst: Gulf Coast Fish Bowl (2017)
Garza Family: Arroz con Leche (Sweet Crispy Rice) (2018)
Justin and Rudy Martinez: Cotton Candy Taco (2018)
Winter Family Concessions: Fernie's Hoppin' John Cake with Jackpot Sauce (2018)
Brent and Juan Reaves: Big Red® Chicken Bread (2019)
Garza Family: Fla'mango Tango (2019)
Ruth Hauntz: Ruth's Stuffed Fried Taco Cone (2019)