The star of Hand to God, now playing at WaterTower Theatre in Addison through August 26, is Tyrone, a sock puppet with an attitude. He spews profanities in church, engages in puppet sex and generally wreaks havoc. Joanie Schultz, the theater's artistic director, loves hanging out with him so much, she is directing the show for a second time. "The puppet does all these things you're not supposed to do and it's kind of amazing," Schultz said. "It's the kind of play that wins on all levels for me."
Schultz initially directed the show by Texas native Robert Askins in 2016 at the Studio Theatre in Washington, D.C. It became a long-running hit and was nominated for six Helen Hayes Awards. Set in a small Texas town, Margery, a recent widow, is leading her church's puppet club. Her son, Jason, is a reluctant member of the club and his sock puppet, Tyrone, develops a devilish and overwhelming personality.
Schultz's D.C. production was an immersive experience, transporting the audience to the church basement where the puppet club meets. "It was a really special production for me creatively as well because the theater was so open and excited for this kind of radical idea for staging it," Schultz said. To recreate this experience, WaterTower Theatre invites the audience to arrive as much as 40 minutes early, have a drink and make their own sock puppet. There are no assigned seats. Instead, patrons can choose to sit in traditional seats or at one of the tables on the set.
The enveloping set gets to the heart of the show. "We are invited to be a part of the community of that play. It's a play that is very much about how easy it is to fail the people who need out help the most, the people who are a little bit on the fringes and who are going through a rough time," Schultz said. "Everyone can relate to a situation where things are hard and people around you are telling you to buck up and not talk about it and move on."
Jason, struggling with the loss of his father, has repressed his grief so much, it manifests itself in the absurd form of a sock puppet. "He hasn't had a way to process it, a place to put his pain and it comes out in this ridiculous way," Schultz said.
With informal seating options, Schultz hopes people will talk about empathy. "Perhaps people have stories about their own lives or people they know and love that have been through a death in the family or a hard time and think about what people need when they are dealing with grief. Grief is something we all deal with, but none us are super great at it," Schultz said.
The Tony Award-nominated show, famous for its puppet nudity, adult language and hilariously bizarre situation in a sacred place, could be construed as offensive in the Bible Belt, but it's core message is about compassion. "I hope people have a sense of humor about it and can see that the play is not condemning Christianity. The message is of the play is super Christian because it is about how do we listen to and reach out and not judge the meek among us and people having a hard time," Schultz said.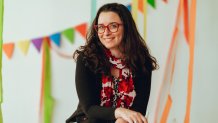 Hand to God marks the end of Schultz's first full season at WaterTower Theatre. The Chicago native is proud of the diverse work the theater has produced over the past year and has been impressed with the creative community in her new hometown. "Collectively, I've seen theatre really impact this community and I've seen the power of that," Schultz said. "The artists here are great, and they are passionate. I've loved working with everyone here in DFW."
Local
The latest news from around North Texas.
Schultz's appointment at the 22-year-old theater in January 2017 marked the beginning of an important transition for the theater and the new artistic director. "I'm an entirely different person that I was two years ago, living my Chicago freelance life," Schultz said. "I've learned so much about how hard this job is. I want to go hug every artistic director I've ever worked with and thank them for making me a place for me to do my work. It's also super-rewarding."
Schultz is focused on expanding audiences and creating nourishing theater that serves a diverse community. "I go to the theater to feel humanity and to feel the human connection I have with the audience around me and the artists on stage because they are live and they're right there," Schultz said. "It makes me feel connected to the world and I think that's what we do best in the theater."
Schultz continues to navigate the challenges of the theater's transition, pushing to make WaterTower Theatre a theatre for the future by having faith in her vision. "Keep going, keep working, keep trying. See where it's working and move towards that," Schultz said. "And know you're going to make mistakes. I've made so many! And have a good sense of humor."
MORE: WaterTowerTheatre.org

CLICK HERE to read a review of Hand to God from our media partners at The Dallas Morning News

Copyright FREEL - NBC Local Media