There's been a lot of criticism over the past couple weeks against Fort Worth Police Chief Joel Fitzgerald. But that doesn't tell the whole story. NBC 5 sat down with two recently-retired officers who offered a look inside a divided department at another point of view.
In less than two years on the job, Fort Worth's first black chief has led the department through some high-profile cases that heightened racial tensions.
His decisions have garnered criticism from many in the community and in the Fort Worth Police Officers Association (FWPOA), where last week, members considered, though decided against, a vote of no confidence.
"Morale is at an all-time low," FWPOA President Sgt. Rick Van Houten said last week.
"There's two sides to every story," said Retired Officer Rochone Nichols.
He and another retired officer, John Choyce told NBC 5 there's a silent segment that does back Chief Fitzgerald.
"I'm talking about over a cross spectrum of the diversity within the department, he has a huge amount of support," Choyce said.
Local
The latest news from around North Texas.
Nichols added that they, "Want him to succeed as the chief, not only because he's the first minority chief, but because he's a chief trying to change direction."
On Monday, Corp. Rod Martin, the president of the Fort Worth Black Law Enforcement Officers Association (FWBLEOA) backed that up, telling NBC 5 he fully supports the Chief and believes Fitzgerald "understands the culture of policing and knows the job is hard."
"Chief Fitzgerald is doing the best job he can with what he has," Nichols said.
Retired Officer Nichols said there's a long history of racial tensions within the department and he questioned whether the Police Officers Association fights as hard for minority officers as white ones.
"Where really is the racial disparity coming from?" Nichols asked.
Both men say the department needs to unite to best serve the citizens and make the Fort Worth PD a model in a new era of policing.
"It's a Ferrari, take the shackles off of it and let it be a Ferrari and I think this chief will help it along in the trajectory of that," said Choyce.
Sgt. Van Houten said in a statement: "The Fort Worth Police Officers Association fights equally for all officers' rights, regardless of race, gender, ethnicity or sexual orientation. An officer is an officer."
Martin, head of the FWBLEOA, did not question the FWPOA's fairness.
On Tuesday, the FWBLEOA, went on the record to say that Martin was not speaking on behalf of the organization and released a statement which reads in part, "The statements made to the media represented the opinions of Corporal Rod Martin and do not reflect the voice of the FWBLEOA Board of Directors. Additionally, his sentiment regarding the FWPOA's fairness does not comport with historical facts."
You can read the entire statement here: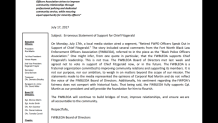 Chief Fitzgerald is still not commenting.