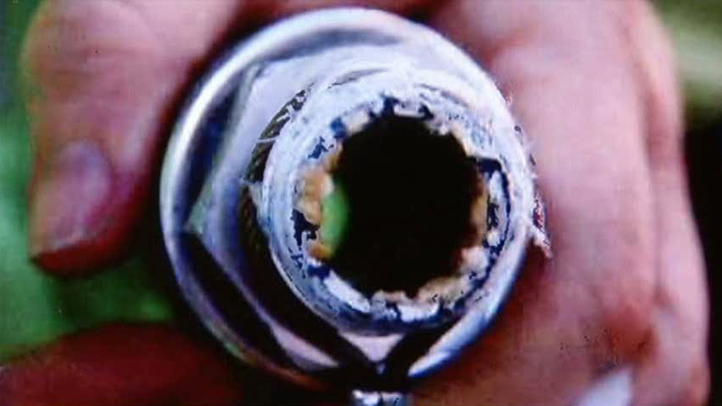 If you flew out of Dallas/Forth Worth International Airport last year, there's a chance the drinking water on your plane came from hoses with "brown and yellow residue" or "orange and greenish debris" on the hose nozzles.
An NBC 5 investigation uncovered those findings in reports written by Food and Drug Administration inspectors who visited DFW, Dallas Love Field, and other airports across Texas.
The inspectors expressed concern that some of the things they saw could potentially contaminate the water that's used to make coffee and tea on board the planes.
Local
The latest news from around North Texas.
(Watch the full story above.)
Since those findings, DFW airport said it has spent more than $600,000 replacing potable water hoses and the cabinets they're housed in.
At gates DFW is responsible for maintaining, inspectors found hoses stored in dirty, rusting cabinets where they feared bacteria could get into the hose if the nozzle touched the cabinet. The gates where those discoveries were made are used by a number of major airlines other than American Airlines. At some of those gates, even the caps that are supposed to keep dirt and debris out of the nozzles were covered in dirt, according to the reports.
At other DFW Airport gates that American Airlines is responsible for, the reports detail soiled nozzle caps and a dirty mop stored inside a cabinet along with the drinking water hose. American said it has since replaced all of that equipment and retrained workers to make sure proper procedures are followed.
At Dallas-based Southwest Airlines, inspectors found more dirty hose nozzles, including one at the El Paso airport with "greenish semi-liquid debris around the rim of the nozzle," according to FDA reports.
At a Southwest gate at Dallas Love Field, the inspectors took pictures of bugs on the floor behind an ice machine used to supply planes. And they took pictures of mold-like debris on doors of the ice machine.
In Lubbock, they found bugs described as "beetle-like insects" behind a Southwest ice maker along with dirt and debris.
Southwest said any bugs or mold inspectors found never came in contact with the ice and it was safe to use. The airline also believes dirty nozzles the inspectors identified were safe because debris was found on the edge of the nozzles and not inside the hose itself.
Southwest's director of environmental services said the company immediately cleaned or replaced any equipment written up in FDA reports. The airline also said it uses special filters on its coffee makers to catch bacteria that might get through the pipes.
In October, the Environmental Protection Agency began requiring airlines to start sampling and testing the water on all of its planes. Under new rules, the water tanks on planes must also be disinfected on a regular schedule. American and Southwest said they're doing that on each plane four times per year.