Police in McKinney arrested a woman early Friday in the fatal shooting of her boyfriend's 7-year-old son in Greenville, Texas, authorities said.
Greenville police answered a disturbance call at 4:48 p.m. Thursday in the 4200 block of Pickett Street, but when they arrived, police didn't find anything going on, according to a release.
About the same time, police were told a 7-year-old child was brought to the emergency room at Hunt Regional Medical Center with a gunshot wound.

The child, identified by relatives as Kaden Green, died at the hospital.
Early Friday morning, McKinney police said officers located a suspect's vehicle leaving a local Walgreen's store. The driver sped away from police, driving west into Frisco and into a dead-end street.
The vehicle backed up and struck the front end of a patrol unit, police said. At that point, officers arrested the driver, Brooke Craig, and a passenger, identified as Cameron Castillo, the child's father.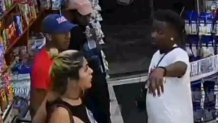 Both Craig and Castillo were booked into the Collin County Jail, according to police. Jail records show that Craig was later transferred from Collin County to Hunt County, the Associated Press reported.

Local
The latest news from around North Texas.
Craig faces a capital murder charge, and records did not list an attorney in relation to the charge. Craig also faces an evading arrest charge in Collin County, and the attorney listed in relation to that charge did not immediately return AP's call Friday.
Castillo was arrested for a parole violation, police said. Jail records did not list an attorney for him.
A spokeswoman for Child Protective Services, Marissa Gonzales, said two siblings of the 7-year-old victim have been taken into protective custody.
"I want justice for my son," Kaden's mother, Courtney Green, said tearfully.
"It's tearing the whole family up," said the boy's uncle, Donny Traymor. "It's a tragedy. A 7-year-old boy. Things like this aren't supposed to happen."