A 73-year-old woman was killed in a hit-and-run crash in Dallas' Casa View neighborhood Friday afternoon, her family says.
The crash happened at about 2:15 p.m. at the intersection of Ferguson Road and Highwood Drive, Dallas police said.
Police said a black Chevrolet Impala was racing a yellow Chevrolet Camaro traveling south on 10100 Ferguson Road.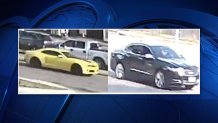 The driver of the Chevrolet Impala struck and killed the woman who was pronounced dead at the scene, police said.
While the family is awaiting identification from the Dallas County Medical Examiner, they said the victim was Linda Pearson, 73.
"We are just totally devastated by the suddenness of her homegoing, and we are just at a loss for words," Pearson's pastor Marcus Alexander said. "But the peace that we have is that we know where Linda is. So our prayers are for the individual who perpetrated this horrible offense and chose to leave the scene, and we pray that they will come forward."
Local
The latest news from around North Texas.
According to police, both vehicles fled the scene and failed to stop and render aid.
Vehicle Crimes Detectives are searching for the two vehicles, police said.
Police said the Chevrolet Impala is believed to be a 2014-2020 LTX/Premier model. The vehicle has chrome side mirror caps and chrome body side molding. The vehicle may have damage to the front passenger headlight and fog light.
The Chevrolet Camaro is yellow with a black racing stripe on the hood, police said.
Residents who live along Ferguson in the blocks just south of the Casa View shopping center said that street racing has been a chronic problem for years.
"They race. It's like a racetrack," Pamela Caraway said.
Caraway lived next door to Pearson for nearly a decade.
She said her neighbor was friendly and a woman of faith who walked her dog, Precious, every day.
"We all just loved her," Caraway said.
She, like others, had warned Pearson to be careful along the busy street. Now, she's echoing calls for those responsible to turn themselves in.
"I just wish that they could feel the emotion that the family must feel," Caraway said.
Anyone with information on this offense or the suspected vehicles should contact Vehicle Crimes Det. Jason Massey at 214-671-0012 or Jason.Massey@dallascityhall.com.