On Monday night's episode of American Ninja Warrior, an Oncor lineman will be among the 30 contestants competing in Dallas for a spot in the Las Vegas finals.
Erik Brown has worked with Oncor for 14 years, scaling power poles to install and repair transformers and lines.
Earlier this year, he competed to take those skills to the next level in NBC's American Ninja Warrior, placing 24th in the Dallas qualifier.
Brown said he didn't even know about the show until a couple of years ago when people in town mistook him for one of its big winners.
"I was at a few restaurants and I kept having people tell me, 'Hey good job,' and 'Congratulations!' and 'You'll get 'em next year'," said Brown.
It turns out Brown's a lookalike for Geoff Britten who competed on multiple seasons of the show that runs athletes through a rigorous obstacle course.
"I liked it and I thought I could do it. And I told some people I could and they said, 'Oh no. You're too old," said Brown.
Local
The latest news from around North Texas.
And 39-years-old, that was just enough of a challenge to convince Brown to prove everyone wrong.
After all, Brown said, his job requires a lot of physical exertion.
"It definitely helps with your strength training. I'm not sitting in an office every day. We're lifting heavy poles. We're climbing. We're cutting wire. We're wearing gloves. You know our grip strength is really getting trained every day, but it is a whole different ball game with the show," said Brown.
Brown said he first trained at a Houston-area gym that's helped prepare others for the show. He then spent three months building his own course in his Lufkin garage.
He first applied for season nine, but he missed the cut. Then he and dozens of other Oncor linemen were deployed to Houston when Harvey struck in August 2017.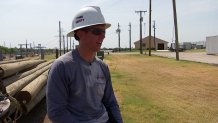 "Harvey was devastating. I mean we've worked a lot of hurricanes and tornadoes, you know, and ice storms, wind all the time. You know, we're used to working and seeing some destruction but when everything was under water like that, you just feel for those people and I wanted to help them, represent them and give them something to cheer for," said Brown.
That's why he reapplied one year later, this time making it not only to the Dallas Qualifiers but on the Dallas City Finals.
"It feels good. I feel like I'm trying to make everybody proud," said Brown.

Brown will need to place in the Top 15 out of 30 to advance to Las Vegas.
American Ninja Warrior airs Monday and Friday from 7 p.m. to 9 p.m. on NBC 5.