What to Know
Multiple 911 callers reported a man with a frying pan trying to enter their apartments and smashing light fixtures early Tuesday morning.
Officers gave the man multiple verbal commands to drop the frying pan and meat cleaver. The man refused, resisted a shot from a stun gun and continued advancing toward officers despite their warnings.
One of the officers was stabbed in the confrontation; the officer's injuries are not considered life threatening.
A Denton police officer fatally shot a man early Tuesday morning who police say resisted a stun gun and continued to advance on police while refusing to drop a frying pan and a cleaver he was carrying. An officer injured in the melee is recovering from a stab wound.
Family members identified the man who was shot as Darius Tarver, 23, while, the University of North Texas he was a student at the university.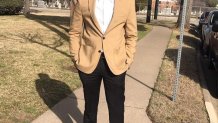 Officers arrived at The Forum at Denton Station, a student apartment community along the 200 block of Inman Street, at about 3 a.m. after multiple people reported a man was banging on several doors and yelling for someone to open the door, police said. Callers told 911 dispatchers that the man had a frying pan in his hand and was shattering light fixtures in the hallway.
Denton Police Chief Frank Dixon said at a news conference Tuesday that Tarver was trying to enter several of the residences.
Officers at the scene were on the phone with one of the 911 callers when the man came out of an apartment holding a frying pan and cleaver. Police said that as Tarver began down the stairs, toward where they were standing, they gave multiple, loud commands for him to drop the weapons.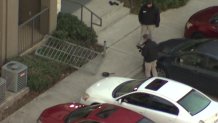 Officers told Tarver that they were there to help him, Dixon said, but he continued advancing their way. One of the officers pulled out a stun gun to try to immobilize the man, but after being hit by the device he immediately got up and continued moving toward the officers.
Local
The latest news from around North Texas.
As Tarver got close, an officer pulled out a gun and shot him at least once. The man fell to the ground, police said, and officers immediately began life-saving measures.
It was then, police said, they realized one of the officers had been stabbed in the scuffle.
Denton Fire-Rescue was called and Tarver was transported to an area hospital where he was pronounced deceased. Police said the injured officer was also hospitalized and was listed in stable condition with injuries that were not life threatening.
"This isn't just a tragedy for law enforcement, it's also a tragedy for the young man that is no longer with us. Anytime that a life is taken, it's a tragic circumstance and we don't want it to happen," Dixon said.
Tarver's father said his son graduated from McKinney High School and was going to graduate from UNT in May with a degree in criminal justice. He said Tarver was a "good kid," who worked two jobs and wanted a career in law enforcement. He had no history of drug or alcohol use, Tarver's father said.

He said Tarver was in a bad car accident earlier this month in which he suffered head injuries. He said he doesn't know if that played a part in the incident.
The officer who deployed his weapon has been at the department for six years. The officer who was injured is new to the department but has been in law enforcement for over 10 years.
Per standard practices, the officer who discharged the weapon will be placed on administrative leave and the Texas Rangers will investigate the officer-involved shooting.
"This tragedy cuts a young life short, and we are keeping his family, friends, and the officers involved in our hearts," the University of North Texas said in a statement. "We ask that our students, faculty, and staff support each other in expressing their grief."
UNT said counseling would be available Wednesday from 10 a.m. to 12 p.m. and from 3 to 5 p.m. in Chestnut Hall, room 311. The phone number for UNT's counseling services for students is 940-565-2648.
NBC 5's Texas Sky Ranger was over the scene. Crime scene tape was seen wrapped around the entrance to an apartment breezeway and five vehicles in the parking lot.
Editor's note: An earlier version stated the officer was OK, police say that is incorrect. NBC 5 regrets the error.