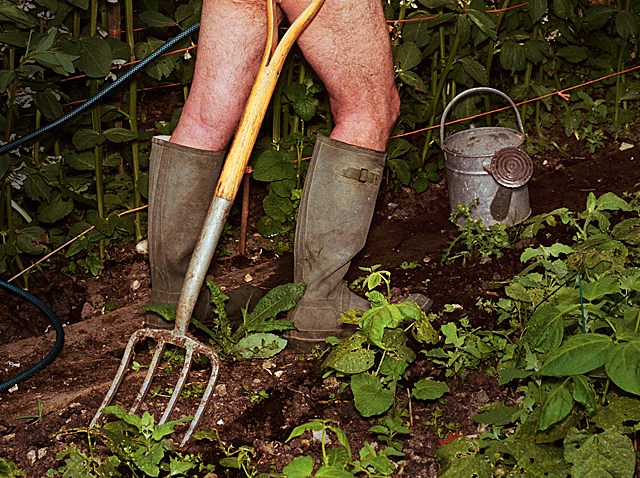 A Fort Worth man probably won't be standing outside with his weed whacker and nothing else again.

A Fort Worth deputy city marshal on bike patrol near Lake Worth spotted the man wearing nothing but shoes doing yard work, according to a report that first appeared in the Star-Telegram.

Fort Worth police tell NBCDFW that when the 71-year-old man saw the female deputy coming toward him he dropped the trimmer and ran into the house in the 9800 block of Watercress Drive.

The man came back outside in shorts, that were unzipped, and told the deputy he'd done yard work in the buff before and thought his yard was private enough that no one could see him.

The deputy pointed out that the problem was some privacy slats were missing from his chain-link fence and he lives across the street from a park and along a busy road.

Police tell NBCDFW that the deputy checked to make sure the man wasn't a sex offender and then promptly issued him a Class C misdemeanor citation for disorderly conduct under the Texas penal code 4201 A-10 for exposing "his anus or genitals in a public place and (being) reckless about whether another may be present who will be offended or alarmed by his act."
"(It's) probably a good idea to wear clothes when you're out there working in your yard," said Jesse Hernandez with the Fort Worth City Marshal Division.
A neighbor who would only identify himself as Charles laughed when he heard what happened and said, " that's getting pretty weird."

Charles added that he would never do yard work in the nude, "unless it's way out in the boondocks."
Local
The latest news from around North Texas.
Here is the narrative from the Fort Worth police report:
On September 20, 2009 at approximately 1525 hours Deputy L. M. Rowland #0202 conducted bicycle patrol in the area of Camp Joy and Wildwood Park located in the 9800 block of Watercress Drive, Tarrant County, Fort Worth, Texas.

During the patrol Deputy Rowland rode in the street N/W Bound on Watercress Drive, toward Silver Creek Road. While riding parallel to a residence at 9816 Watercress Drive, Deputy Rowland observed an elderly male weedeating his back yard while naked (only wearing shoes). The male, CIT1, was standing on the south side of his backyard which was enclosed with a cyclone fence. The East side of the fence had thin plastic strips woven into the fencing for privacy and a gate was located in the middle of the East fencing. The South side of the cyclone fencing did not have any plastic strips. As he rode by Deputy Rowland observed CIT1 through the East Fence and Gate as he weedeated the South Side of the yard.

Due to the plain view violation of Disorderly Conduct, Deputy Rowland began riding up to CIT1's yard to detain CIT1 for investigation. Since CIT1 had the weedeater in front of him, Deputy Rowland did not observe CIT1's genitalia; However, upon CIT1 observing Deputy Rowland he took off running toward the south door of his residence. Upon CIT1 turning around to run Deputy Rowland observed CIT1's buttocks. Deputy Rowland yelled at CIT1 to stop. However, CIT1 sat the weedeater down and ran into his home. Deputy Rowland observed that CIT1 did not appear to lock the door as he simply opened the screen door and ran inside. Deputy Rowland remained at the East Gate and yelled for CIT1 to come outside to speak to him. In a few moments CIT1 exited the residence. He had hurriedly put on a pair of tan shorts which were unzipped, revealing the fact that he was wearing no underwear.

Deputy Rowland asked CIT1 to exit the gate and produce identification. Deputy Rowland then inquired why CIT1 was weedeating naked. CIT1 stated that he did not think anyone could see him in his back yard due to the plastic strips in the fencing. Deputy Rowland advised CIT1 that his thinking was erroneous as he had clearly seen him through the East fencing. Deputy Rowland further stated that he (CIT1) was standing on the South side of the yard weedeating and there were no plastic strips on that side of the fence, so his argument was invalid. Deputy Rowland then asked CIT1 if he frequently does yard work while not wearing clothing, to which CIT1 responded that he does not frequently perform yard work while naked but that this was not the first incident. Deputy Rowland advised CIT1 that considering the fact that a park where children play is directly across the street from his residence and that Watercress Drive is a heavily traveled road which runs in front of his house that it is unreasonable and illegal for him to walk around in his back yard naked.