The winner of Miss Black Texas US Ambassador 2016 says she was harassed and berated by a North Texas police chief who she said called her a "black b----," and then was unlawfully detained and arrested.
In an interview with NBC 5, Carmen Ponder recounted her alleged interaction with Commerce Police Chief Kerry Crews.
The City of Commerce says statements about the incident do not align with statements from Crews and the responding officer. The city manager says Crews has been placed on leave during the investigation into the matter.
In her account, Ponder said that she was driving to a Wal-Mart in Commerce Saturday when a black truck cut in front of her car and began driving erratically, braking and accelerating. Ponder said she turned on her blinker, pulled around to pass the truck and then drove into the Wal-Mart parking lot.
Local
The latest news from around North Texas.
According to Ponder, the black truck followed her and pulled up next to her car. She said the passenger, who she believes to be Crews, exited the truck and yelled that he was teaching his 14-year-old daughter how to drive and that she should not have passed his truck.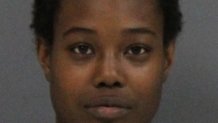 Ponder said she ignored the man at first but eventually told him that that was illegal before she walked into the store.

"I finally got annoyed with him trying to justify the fact that a 14-year-old was illegally driving on the road, so I turned around and I screamed, 'It's illegal,' and that's when it was, 'Oh, whatever you black b----," she said.
[[423853534, C]]
After making a purchase at the store, Ponder said when she walked out of the store she was charged by several other officers in plain clothes.
"One of them shoved his badge in her face, told her that she 'Better apologize to the police chief,' but my client declined to do so," said Ponder's attorney, Lee Merritt. "One of the officers grabbed her, pulled her back into Wal-Mart, and told her she was being detained. When other officers arrived she walked back to her car to explain what happened. An officer grabbed her and demanded she be arrested for resisting arrest. She has bruises on her arms from where she was grabbed."
Ponder was handcuffed, booked into jail and charged with evading arrest or detention. She spent 24 hours in jail.
The beauty queen may have confused another man for Crews, Merritt said. Even though it may be a case of mistaken identity, Merritt said he believes Crews still violated Ponder's civil rights by arresting her.
In a statement released Thursday afternoon, authorities said Crews was placed on administrative leave while an outside organization hired by the City of Commerce conducts an investigation:
"On May 20, 2017, the Commerce Police Department responded to a call about a dispute between two motorists entering the Walmart parking lot. Though not on duty and present only as a customer, Police Chief Kerry Crews became engaged in the incident after being approached by one of the parties. Chief Crews made contact with the other party, but she failed to comply with his requests. As a result, she was arrested for evading arrest or detention with the responding officer arrived. She was then taken to the Hunt County Jail.
Since the incident there have been a number of statements made about the details of the incident, and many of these details do not align with the statements provided by Chief Crews and the responding officer. As such, the City is engaging an outside entity to conduct an investigation into the incident to objectively review and determine the facts.
For the benefit of the investigation, and in keeping with common practice, Chief Crews will be placed on administrative leave pending the results of the investigation. This is in no way an admission of any wrongdoing and should not be perceived as a disciplinary action. The work of the Commerce Police Department is essential to the community, and it is beneficial to both Chief Crews, the officers, and the City to allow him to serve without the distraction of an investigation clouding his day-to-day management of the department. Disciplinary action, if warranted, cannot be taken until after the investigation has concluded.
At this time, the City of Commerce will hold all additional comments until the investigation has progressed."
The Commerce City Council voted to hire the Fort Worth-based law firm Lynn Ross and Gannaway to investigate the matter.
"We have had an incident that has been reported over the last couple of days in an incomplete manner," said Mayor Wyman Williams, saying this is why they chose for an outside entity to investigate.
"We are so pleased that we have gotten media attention to an issue that is very important to not only this town, but to our country," he said, adding that Commerce takes pride in being a diverse city.
Crews declined to comment on the allegations, telling NBC 5 his attorneys advised him not to speak at this time.
[[424471604,C]]
Ponder is calling for police accountability and has launched a crowdfunding page to raise money for attorney's fees to fight the charges. She writes in her youcaring.com post that she refuses to take a plea deal and is "more than willing" to go to trial.
"My only crime...the color of my skin," she said.
Ponder is the former Miss Black Texas U.S. Ambassador. She is also a Dean's List student at Texas A&M University-Commerce and an intern with the Hunt County District Attorney, according to her You Caring page.
Commerce City Manager Darrek Ferrell says the city will hire a private firm to conduct an investigation, a matter the city council was expected to discuss Wednesday evening.
An interim police chief told NBC 5 that Crews has been with the Commerce Police Department for more than 25 years.
NBC 5's Meredith Yeomans and Homa Bash contributed to this report.