What to Know
A 21-year veteran of the Mesquite Police Department was fatally wounded in a shootout Friday afternoon.
The accused gunman is hospitalized; last listed in critical condition.
The investigation is ongoing with more details to be released Friday night and over the weekend, the police chief says.
A Mesquite police officer died Friday afternoon after being fatally wounded in a shootout that stemmed from a disturbance outside a grocery store parking lot, the department says.
Mesquite Police Chief David Gill confirmed the wounded officer died while undergoing treatment at Baylor Scott & White Medical Center in Dallas.
The shooting happened after 1:40 p.m. in the parking lot of an Albertsons grocery store in the 1500 block of South Beltline Road, where the officer was called to a report of a disturbance involving two women, said Mesquite Police Capt. Stephen Biggs.
At some point a man got out a gun, leading to a shootout with the officer, Gill said.
The officer was struck twice, Gill said. He was taken to Baylor Medical Center where he succumbed to his wounds.
"This is a senseless act of violence that ripped a loving father from his family," Gill told reporters in a news conference Friday evening outside the hospital.
The officer, who has not yet been named, was a 21-year veteran of the Mesquite Police Department, Gill said.
"He was a good man, a good friend and a good officer. Please keep his family and our family in your prayers," he said, fighting through tears while dozens of law enforcement officers stood behind him.
The man police accused in the shooting was last listed in critical condition with one gunshot wound. His name has not yet been made public.
Dozens of law enforcement officers gathered outside Baylor Medical Center to wait for news of the wounded officer's condition. Many more formed a motorcade to escort the officer's body from the hospital to the Dallas County Medical Examiner's office.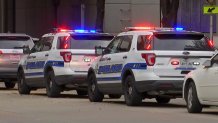 Dallas Mayor Eric Johnson was among the North Texans sharing their condolences on social media. "My heart goes out to the officer's family, friends, and colleagues with @MesquitePD_TX. The people of Dallas mourn with you," he wrote.
"Praying and mourning alongside our brothers and sisters from @MesquitePD_TX," Dallas Police Chief Eddie Garcia wrote. "The @DallasPD also wears your patch today, and for as long as you need our assistance."
"Our hearts are with the loved ones of the @MesquitePD_TX officer who passed away this evening after being shot in the line of duty. This tragedy is a solemn reminder of the risks our officers take every day by putting their lives on the line to serve & protect our communities."
"All of us at @CarrolltonTXPD stand ready to support our brothers and sisters at @MesquitePD_TX," Carrollton police wrote.
"We extend our deepest condolences to Chief Gill, the family and friends of their fallen officer and the entire @MesquitePD_TX," wrote Denton Police Chief Frank Dixon. "We stand ready to provide any assistance you need."
The investigation is ongoing and more information would soon be released, Gill said.
Continuing Coverage: Mesquite Police Shooting