The Texas Commission on Environmental Quality reports the air quality levels are back to normal near a south Fort Worth recycling facility that caught fire Monday afternoon, according to the Fort Worth Fire Department.[[321327381,R]]
People with respiratory sensitivity that were within a mile of Evergreen Paper Recycling were advised to remain indoors Monday after air quality tests showed particulates in the air.
Fort Worth firefighters battled both triple-digit heat and a massive three-alarm fire in the 1110 block of Everman Parkway late Monday afternoon.
The fire was contained to mainly the outside of the building, burning pallets of plastic, paper and other recyclables, as well as six semi trailers, and sending a large plume of black smoke into the air that was visible for several miles across the Metroplex.
By about 8 p.m. Monday, firefighters had the fire contained and were extinguishing hot spots.
Late Monday, the FWFD tweeted that TCEQ tested the air quality after the fire and found particulates in the air up to a mile from the recycling facility. They said there was no chemical or biological hazard.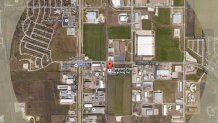 Firefighters remained at the scene overnight to make sure the fire did not flare up again, officials said.
TCEQ advising particulates up 1 mi dwn wind of recyl fire. advise stay indoors if resp sensitivity. Particulate only, no chem, no bio hazard

— Fort Worth Fire Dept (@FortWorthFire) August 11, 2015
As of 4:45 a.m. Tuesday, Everman Parkway remains closed between Interstate 35W and Forum Way. Officials have not said when the roadway would reopen to traffic.
The owner of the recycling facility told NBC 5 no employees were inside the building and no one was injured.
Firefighters battling the fire had the extra challenge of doing so in intense heat after temperatures reached 106 degrees Monday.
Local
The latest news from around North Texas.
Fort Worth Recycling Facility Fire
"That contributed to the calling for three alarms," Fort Worth Fire Department spokesman Kyle Falkner said. "We wanted to get enough people out here so we could rotate crews quickly and keep anyone from getting too overheated."
Crews worked in 15-minute intervals to prevent overexertion and cooling stations were also set up for firefighters. A total of 35 units and 90 fire personnel responded to the fire.
Several Fort Worth police officers brought bottled water to their Fort Worth Fire Department colleagues at the fire.
The cause of the fire has not been determined.