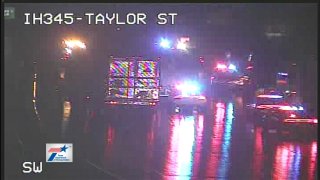 The driver of an 18-wheeler died in a crash on a highway ramp in downtown Dallas late Wednesday.
The semi-truck was going southbound on Interstate 45 when it crashed at about 9:55 p.m. along the bridge over eastbound Interstate 30, according to the Dallas County Sheriff's Office.
The driver of the truck, whose name was not released, was ejected from the cab and found dead on I-30 lanes below.
The 18-wheeler was the only vehicle involved. Investigators were working to determine what caused the wreck.
A dog was also found dead at the scene, deputies said.
The crash led to various ramp closures in the area. All lanes were reopened shortly before 1:30 a.m.