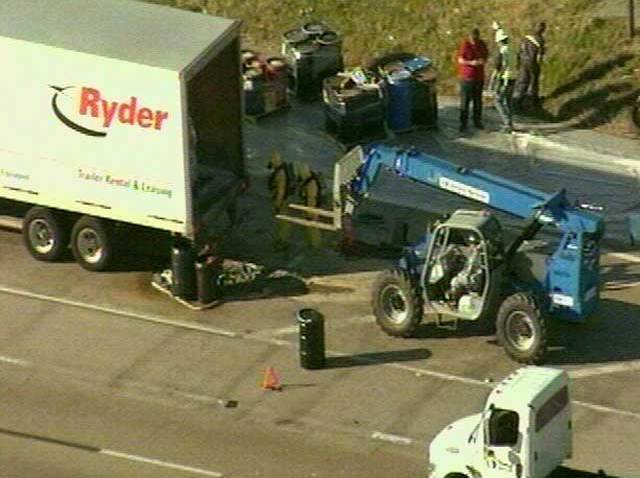 A chemical spill closed Interstate 635 in both directions near Montfort Road east of the Dallas North Tollway on Friday.
But the acid leak was not nearly as dangerous as officials had earlier feared. The Texas Department of Transportation had originally said the chemical was hydrofluoric acid. But hazmat crews found that the source of the leak was a container of hydrochloric acid.
An undetermined amount of the acid spilled onto the highway, Dallas police said earlier.
Local
The latest news from around North Texas.
The Ryder truck was carrying at least four different kinds of chemicals, including 200 gallons of the toxic and highly corrosive hydrofluoric acid. Hazmat crews said none of those containers were leaking.
Dallas Fire-Rescue Capt. Ted Padgett, the city's hazmat program manager, said both acids look like water.
Hydrochloric acid has a variety of uses, including cleaning products.
Hydrofluoric acid can eat skin all the way to the bone.
The driver noticed a yellow tint and alerted authorities that he needed to stop because of a chemical leak shortly before 3 p.m.
LBJ Freeway reopened shortly before 6 p.m., with all eastbound lanes open and three westbound lanes open. Officials had earlier said the freeway could be shut down until about 8 p.m., officials said.
The backup stretched for miles, clogging other major roads in North Dallas.
"It's crazy," said Arlington resident Kevin Smith. "It's crazy. It's always bad, it's always crowded. There's always a wreck, there's always traffic.
All of the drums needed to be removed carefully from the trailer, which accounted for the delay in reopening the roadway. Hazmat crews were reloading the drums onto another truck.
NBCDFW's Randy McIlwain and Omar Villafranca contributed to this report.
Copyright AP - Associated Press