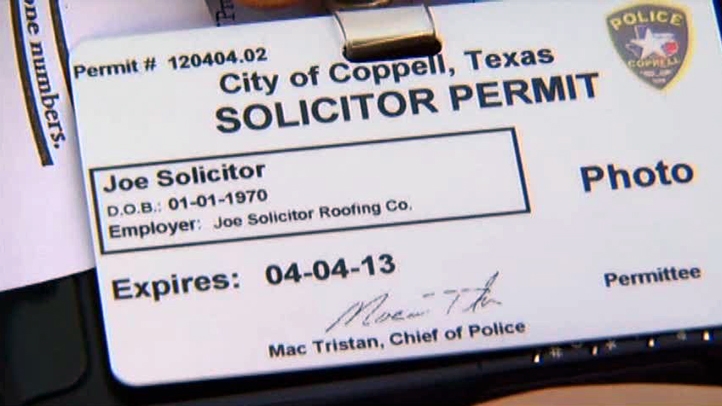 Hundreds of businesses have applied for solicitor permits in Coppell in the wake of Tuesday's severe storms.
Coppell requires solicitors to obtain a permit from the police department before going door to door.
Grady Wallace, owner of RoofKing LLC, spent $250 to get permits for his 10 employees. He said hoped they could knock on doors and find some business in Coppell, where half of its 14,000 rooftops are estimated have hail damage.
Local
The latest news from around North Texas.
The city received more than 380 solicitor permit applications between Wednesday morning and Friday afternoon.
Door-to-door solicitors must wear a police-issued badge with their photograph.
Coppell spokeswoman Sharon Logan said the city has turned some applicants away.
"We do run a background check and as a part of the process, and if they don't pass that background check -- if there's any kind of criminal history involved -- they will not be issued a badge, and that means they will not be cleared to go door to door," she said.
Logan also said homeowners need to make sure the roofing companies they pick have reroofing permits.
Coppell resident Warren Gradick said he did not know his city requires door-to-door solicitors to have permits.
"I wasn't even aware of that -- that they had to have a badge -- but I will now," he said.
Gradick said 10 solicitors knocked on his mother-in-law's door during one day. He has received about 30 different fliers but said he's not planning to hire any of them.
"One of the owners of a roofing company lives around the corner, so we'll probably go with him," he said.
The city said people who do not want solicitors to stop should should post a "no soliciting sign" on their property.