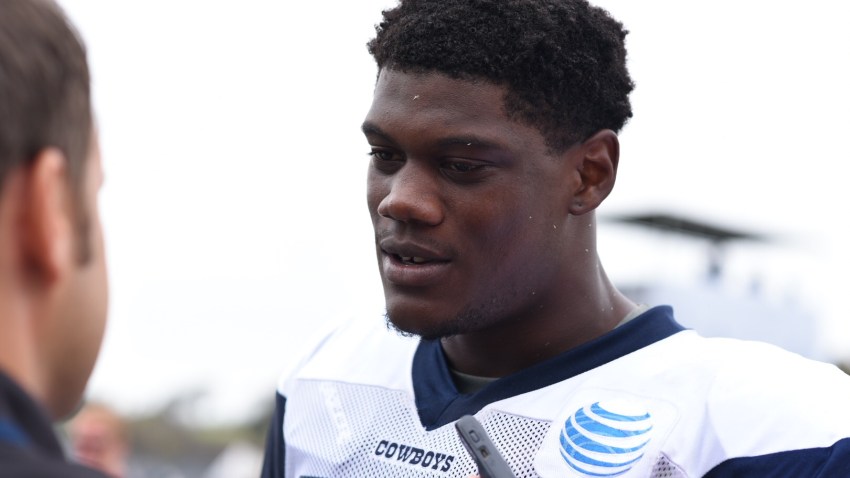 It was a preseason game that had just been played between the Cowboys and Chargers, but the parking lot outside Qualcomm Stadium in San Diego felt NFL regular season-esque. Even almost two hours after the game had concluded traffic was still ridiculous.
As NBC 5 sports photographer Noah Bullard and I (more him than me, but who's keeping score?) carried and rolled our television equipment away from the stadium and toward our rented SUV, we almost ran over two men wearing navy blue jackets leaning against a fence. One of them, the larger of the two, was holding a pizza and flashed a big smile.
It was Cowboys rookie defensive end Randy Gregory.
Local
The latest news from around North Texas.
The night had been an exciting one for Randy – his first-ever NFL game, in which he recorded what everyone believed to be the first of many sacks in his professional football career. He was a combination of excited and exhausted, and I asked why he was just hanging around in the parking lot on such a big night. He and his friend were waiting for their ride to arrive, he told me. But the awful traffic had delayed everything.
After a few more minutes of conversation, I pointed out that we could cram the two of them in the backseat of our SUV, as long as they didn't mind TV gear sticking out in every direction. They looked at each other and shrugged, and decided to take us up on the offer.
As we drove our way to their stop for the next twenty minutes, I found myself extremely impressed with Randy. I knew the stories of drugs and suspensions during his playing days at Nebraska. But the way he seamlessly transitioned the conversation from his excitement about playing in his first game, to making fun of Noah's driving, back to telling hilarious stories about Cowboys rookies, had me convinced his life had to be on the right track. The guy was just really fun to hang around.
Unfortunately, like many who struggle with substance abuse, Randy evidently possesses the skill of making everything seem like life is just fine when it's anything but ok. News broke Tuesday that Gregory has checked himself into a rehabilitation center and is now likely to face a ten-game suspension from the NFL after a fifth-failed drug test. One person who used to be close to him stressed to me that Randy desperately needs prayer.
There are those who will use this story to take their latest swing at Jerry Jones and the Cowboys' personnel decisions. And that criticism, to an extent, is justified. But I'm choosing to focus my attention on hoping an individual who made an impression on me gets the help he desperately needs.
It's not too late for Randy Gregory. He isn't a bad guy, but clearly has a problem. I'm still hopeful the bright personality he showed as we shared a car ride a year ago can shine through the darkness of these struggles, and he can turn his life around.