Fans will be able to enjoy a taste of the holidays with decadent food throughout AT&T stadium during this year's annual Dallas Cowboys' Thanksgiving Day game.
Cowboys Thanksgiving Day Meal Photos
The main attraction is the Texas-Style Dressing Holiday Meal, featuring a Texas-shaped waffle made from stuffing, topped with homemade mashed potatoes, a choice of roasted turkey breast or Petit Jean smoked pit ham, green beans and homemade cranberry sauce, slathered with turkey giblet gravy.
The Legends culinary team at AT&T Stadium will prepare standard-setting fare for thousands of fans to enjoy on gameday, featuring fresh ingredients and from-scratch cooking.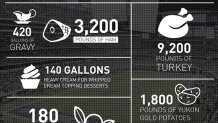 "Our yearly Thanksgiving Day game gives us an opportunity to bring together fans and give them a taste of a traditional Thanksgiving meal while they're enjoying the game," AT&T Stadium Food and Beverage Director, George Wasai said in a statement. "A Texas-shaped waffle from traditional dressing served in a stadium environment is very innovative."
The culinary team will also offer additional menu items inspired by the holidays, from traditional turkey and pumpkin pie, to flatbread with butternut squash and rainbow kale and homemade Spiced Pecan Turtle Gelato.
What it takes to serve 90,000 football fans:

Turkey: 9,200 lbs.
Ham: 3,200 lbs.
Yukon Gold Potatoes: 1,800 lbs.
Cornbread for Dressing: 3,800 lbs.
Broccoli, Rice and Cheese Casserole: 4,500 lbs.
Green Bean and Mushroom Casserole with Crispy Onions: 2,700 lbs.
Praline Pecan Sweet Potato Casserole: 1,200 lbs.
Mac and Cheese: 5,100 lbs
Cranberry Sauce: 180 gallons
Gravy: 420 gallons
Heavy Cream for Whipped Cream Topping Desserts: 140 gallons

The holiday meal will be available on the West Plaza, East Plaza, Upper Concourse at Bent Buckle Stand 444, Upper Concourse, Sections 420 and 450, Main North and Main South Bent Buckle stands and Silver North and Silver South Bent Buckle stands.
Local
The latest news from around North Texas.
Images from the Sideline: Eagles 37, Cowboys 9
The meal costs $25 and is available to all fans who have a ticket to the game.
Academy of Country Music's Male Vocalist of the Year Thomas Rhett will perform during halftime of the Cowboys' Thanksgiving game against the Los Angeles Chargers on Nov. 23 at AT&T Stadium.
Photos: Dallas Cowboys Cheerleaders 2017