Police and Dallas city leaders joined hip hop music artists and community leaders at City Hall Wednesday to launch #ThinkB4UThug.
Hip Hop artist Terrance Watkins, who uses the stage name 'T Cash,' said he came up with the idea of a #ThinkB4UThug campaign in response to the recent surge in Dallas murder and violent crime.
"We've got to think this out, and this is the beginning of making thinking cool again," Watkins said.
Police officers attended the City Hall press conference along with City Council Members Erik Wilson and Casey Thomas.
The mother of a recent Dallas murder victim praised the community based effort to avoid future tragedies.
Shokee Clay said her 21-yearold son Taydren Young was killed March 17th in a double murder on Forest Lane in Dallas.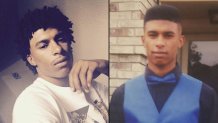 Clay said police have arrested one suspect but more people were involved.
Local
The latest news from around North Texas.
"I'm not going to stop until they are all arrested," she said. "I'm not going to be quiet, and I'm not going to stop."
Watkins said hip hop music sometimes glamorizes violence and sends a bad message.
"That's why we've got an alternative to what's going on. We've got positive music and music that has a high vibration," Watkins said.
Watkins said his group is promoting accountability for personal action and not blaming others.
"You look in the mirror and you can make that change, and say 'think before you thug.' Before we make our move, we get up in the morning, we're thinking better. You're making better decisions. That's what this is about. Think before you thug," he said.
Dallas Police will help promote #ThinkB4UThug with upcoming community events.
More: T Case on Facebook