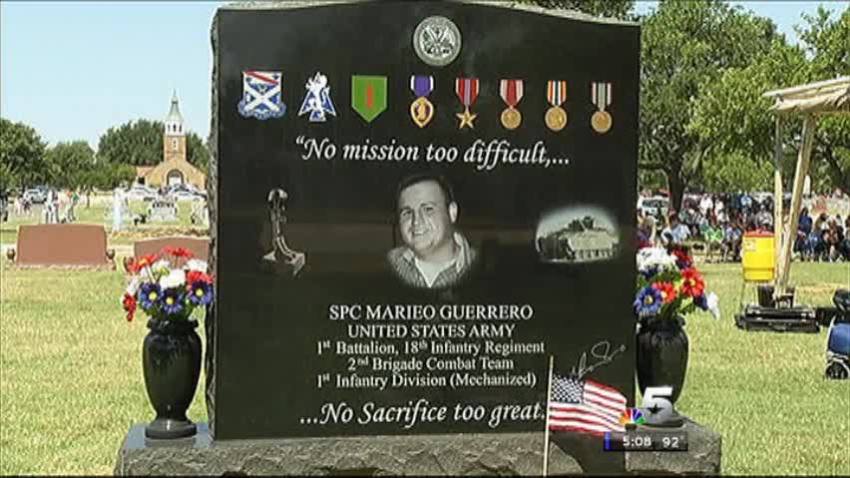 More than 100 people took to the shade of trees at Laurel Land Memorial Park in south Fort Worth, one of many Memorial Day services across the Metroplex.
Amid the ceremonies and among the flags and graves, sat a family that knows better than most what Memorial Day is all about.
"For me, it is to let everybody not to forget anybody," said Cheryl Martinez of Crowley.
Local
The latest news from around North Texas.
In the shade of a tree and in the shadow of her son's headstone, Martinez says it's often tough coming to Veterans Garden, now five years after her son, Specialist Marieo Guerrero, was killed in Iraq.
"I still have my emotional times, I'll always have them," she said.
But on this day, with so many other families, it's a little bit easier.
"I know he's seeing this and he's happy," Martinez said. "It gives us so much feeling, to see everybody remembering everybody."
Among the dozens of people in attendance were representatives of every branch of service, adults and their children, all remembering those who made the ultimate sacrifice and even inspiring those who continue to serve.
"It's really rewarding to see all the turnout, people that come and recognized the military members that served and lost their lives," said Lt. Col. Lane Beene. Beene was the keynote speaker and a member of the U.S. Air Force Reserve's 457th Fighter Squadron based at NASJRB in Fort Worth. The squadron took part in the ceremonies with a fly over and the missing man formation.
But it's not just about the fallen on a day like this, says VFW Chaplain Henry L. Spells.
"Let someone know that they're not forgotten," he said. "Lots of widows and children who are left behind, you might be able to help somebody."
For somebody like Cheryl Martinez, she just hopes that her son's sacrifice is thought about by everybody on this and every day.
"He said he never wanted to be forgotten," she said. "We don't want no one to forget, not just him but everybody."
The funeral home and cemetery, home to many service men and women, is on Crowley Road near the City of Crowley.