The FBI arrested a North Texas man Sunday in connection with last week's riots at the U.S. Capitol.
Larry Rendell Brock, of Grapevine, was charged with knowingly entering or remaining in a restricted building and violent entry and disorderly conduct.
Brock, 53, lived at an apartment complex along Main Street in Grapevine and surrendered to FBI agents Sunday after agreeing to meet them at the Grapevine Police Department, officials said.
In an arrest affidavit, an FBI agent said that Brock's ex-wife was among those who contacted the Bureau telling investigators, "I just know that when I saw this was happening, I was afraid he would be there. I think you already know he was there. It is such a good picture and I recognize his patch," the affidavit said.
John Scott-Railton, a researcher who studies cyber threats at the Citizen Lab at the University of Toronto, also identified Brock from the photos and notified the FBI.
"My first question was, 'Who is this man with military-style patches?' He's wearing a bunch of gear. He looks pretty comfortable in it," Scott-Railton said.
Local
The latest news from around North Texas.
Using Texas-themed logos and military insignia on Brock's clothing and information gathered online, Scott-Railton determined the man in the helmet appeared to be Brock, a retired U.S. Air Force Lt. Colonel from Texas.
"I think we as a country need to understand how a man like Lt. Col. Brock gets from a distinguished service record to making the choices that put him on the floor of the Senate that day," Scott-Railton said.
Brock recently worked for the aviation division of the Hillwood development company in Fort Worth, but the company said Brock is no longer employed there.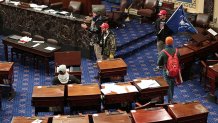 Brock confirmed to The New Yorker on Saturday that the image above showed him in the Senate chamber. He is pictured in combat gear in the top left portion of the photo, wearing a green helmet and body armor. The FBI posted the same picture on its website seeking information about him.
According to The New Yorker, Brock is an Air Force Academy graduate and served in combat.
He told the publication he assumed he was allowed to enter the Capitol when he arrived and said he wore tactical gear because he did not want to get injured by counter-protesters.
The New Yorker also reported Brock said he picked up zip-tie handcuffs when he found them on the floor and intended to give them to a police officer.
On Twitter Sunday, the top federal prosecutor in Dallas, Acting U.S. Attorney Prerak Shah, said his office was "proud to partner with the District of DC to hold Larry Brock accountable for his actions."
The FBI's Washington office has received more than 40,000 tips so far, including photos and videos that could help identify others who brought chaos to the Capitol.
Authorities said their top priority is tracking down those who were seen breaching the heart of the building.
Also Sunday, Eric Gavelek Munchel was arrested in Tennessee in connection with the riot. He's also charged with one count of knowingly entering or remaining in any restricted building or grounds without lawful authority and one count of violent entry and disorderly conduct on Capitol grounds.
Prosecutors said photos from the riot show a person who appears to be Munchel carrying plastic restraints, an item in a holster on his right hip, and a cell phone mounted on his chest with the camera facing outward, ostensibly to record events that day.
It was not immediately known if Brock or Munchel had attorneys to speak on their behalf.
The rioters on Wednesday took over the House and Senate chambers, smashed windows and waved Trump, American and Confederate flags. Prosecutors have filed dozens of cases so far for a variety of offenses ranging from assaulting police officers to entering restricted areas of the U.S. Capitol, stealing federal property and threatening lawmakers.
NBC 5 and The Associated Press