The suspected drunken driver implicated in a fatal wrong-way crash Monday has three previous convictions for driving while intoxicated, according to an arrest warrant affidavit obtained by NBC 5 Tuesday.
According to the Texas Department of Public Safety, just after 2 a.m. Monday 30-year-old Chaz Halston Thames was driving a white 2012 Land Rover northbound in the southbound lanes of the Dallas North Tollway when he collided with a vehicle driven by 57-year-old Melvin Anthony Taylor.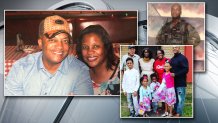 Taylor was killed in the crash, law enforcement saying he was dead when they arrived at the scene only minutes later. Thames was rescued by an officer who used his baton to break open a window and free him from his burning vehicle.
He was transported to Parkland Memorial Hospital in Dallas where officials said he failed a field sobriety test, refused a blood test and asked for his attorney. A blood search warrant was secured, a sample obtained and Thames, who is on parole, was discharged and booked into the Dallas County Jail on a charge of intoxication manslaughter. Thames is being held on $100,000 bond.
A criminal history check, officials said, revealed Thames' three previous convictions for drunken driving including arrests in 2011, 2013 and 2016. In the 2016 case, Thames was sentenced to 10 years behind bars.
The last fatal wrong-way crash on the DNT happened in April when 23-year-old Shelbi Stephens was killed near Maple Avenue when a wrong-way driver traveling northbound in the southbound lanes collided into the car she was riding in.
Local
The latest news from around North Texas.
Over the years, the North Texas Tollway Authority has taken steps to improve safety along the DNT hoping to avoid further tragedies including: lowering "Wrong Way" signs, adding pavement markers on the south end of the tollway, building a median to avoid accidental left turns at the Wycliff exit ramp, adding LED enhanced signs at three exit ramps and creating a detection system to alert authorities of a possible wrong-way driver.
Taylor Family Statement
On October 28th 2019, my father Melvin Taylor was killed by a drunk driver who was driving in the wrong direction. His sudden death has left my family shocked and shattered. My father was just 57 years old and in the prime of his life. He my mom, Renee Taylor, were just one week shy of celebrating their 38th wedding anniversary. They loved each other dearly. He was the leader and provider of my family. My dad, along with my raised me, my 2 siblings, my older sister and my brother Melvin Jr., who passed away 14 years ago from a seizure. He was the best father in the world, who by his example, taught us to be caring, compassionate, kind, and to love the lord. He was originally from Harlem, NY, but my father was also a veteran who served in the U.S.. Marines. He loved to sing and to travel, something that he and my mom were looking forward to doing when they retired. He was one of the most loved and respected people I knew. He was known for his sense of humor, bright smile, generous nature, and incredible work ethic. He recently started a concrete company, T&T Ready Mix in Gunter, Texas, and was looking forward to growing the business. My dad's greatest love was for his 4 grandchildren. He was the best grandfather ever and his grandchildren loved him so much. He was their superhero. He was all of our superhero. We just learned that the person who took my dad's life has possibly been charged with manslaughter. We pray that justice will be served. That person took away a husband, father, and grandfather, a brother, an uncle, a friend to people all over the world. The world has lost an amazing human being. Thank you for your time and we respectfully request that you allow the family privacy during this time.