A 1-year-old boy died Friday after being left alone inside a car for about five hours, police say.
Kingston Jackson, just three weeks away from turning 2, was found in the car by his mother at about 7 p.m. when she arrived home, after she took two trips without realizing he was in the car.
Police arrived at the family's apartment on the 500 block of Southeast Gardens Boulevard moments later to find a neighbor performing CPR on the unresponsive child.
After medics worked on the child for about 25 minutes, he was transported to Cook Children's Hospital in Fort Worth where he was pronounced dead.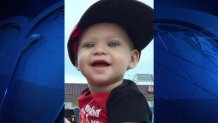 Family members told NBC 5 Sunday that earlier in the day the boy's mother came home to drop off her two kids with their father. The older child got out of the car and she thought the father had removed Kingston from the front-facing car seat.
The mother then drove to a family member's home where she spent several hours. The mother made one other trip before heading home -- where she discovered her young child still in the backseat.
Local
The latest news from around North Texas.
No charges have been filed and Kingston's cause of death is pending. Police said they are still investigating the boy's death, but that it appears to be an accident.
"I think a lot of people aren't aware that even if it's 60, 70, 80 degrees outside it doesn't mean that the interior of a vehicle can't get well into 100 degrees," said Sgt. Jae Berg.
The high in Burleson at about 5 p.m. was about 81 degrees. NBC 5 Meteorologist Samantha Davies reported the temperature inside the car could have climbed to 130 degrees. The Texas Department of State Health Services said temperatures of 107 and higher can lead to fatal heatstroke and that heatstroke in a vehicle can occur when outdoor temperatures are as low as 57 degrees.
According to KidsandCars.org, a child's body overheats 3-5 times faster than an adult and that two-thirds of the increase in temperature in a car happens in the first 20 minutes.
There is a GoFundMe account set up to help the family with funeral expenses.