Dallas police continue to search for the person accused of wounding four women and a 4-year-old girl in a shooting at a southeast Dallas apartment complex.
Officers and first responders were called at about 4:45 p.m. on June 11 to the 300 block of North Jim Miller Road, near Elam Road and U.S. Highway 175, where police said two groups of people had been involved in a disturbance.
Five people were taken to local hospitals with gunshot wounds. The child was taken to Children's Medical Center in stable condition, and the four women were hospitalized with injuries not thought to be life-threatening.
It's unclear what the disturbance was about.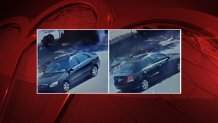 Police released photos of the suspect vehicle, a black Kia Optima with paper dealer tags that was being driven by a female, and a video of the shooting. In the video, a person in all white can be seen firing a handgun toward the victims.
Anyone with information about the shooting may call Detective Yahir Perez at 214-671-4735 or email yahir.perez@dallascityhall.com.
Crime Stoppers is offering up to $5,000 for information that leads to an arrest and indictment. Anonymous tips may be made by calling 214-373-8477.