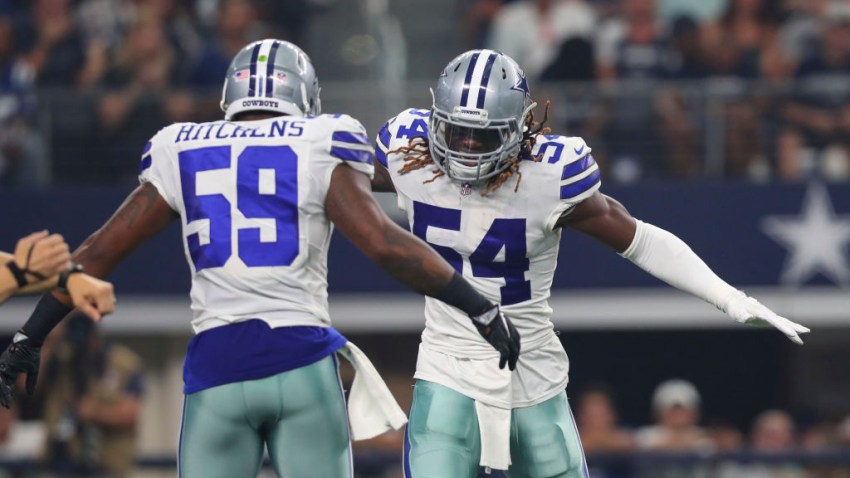 Throughout training camp, the Cowboys told us they had a plan for linebacker Jaylon Smith that would position him for success.
They wanted Smith, who missed his entire rookie season as he recovered from a devastating knee injury that included nerve damage, to play 25 to 30 snaps per game, primarily on first and second down.
That would allow him to use his instincts to diagnose and stuff running plays, while Hitchens and Justin Durant handled much of the pass coverage responsibilities.
Local
The latest news from around North Texas.
Then middle linebacker Anthony Hitchens suffered a tibial plateau fracture in his right knee in the fourth preseason game, forcing the Cowboys to scrap the plan.
The new plan has exposed all of Smith's flaws.
Twice in four games, Smith has played more than 60 snaps. No one in the front seven has played more than Smith's 227 snaps.
And with weakside linebacker Sean Lee out against the Los Angeles Rams, he played a career-high 69 snaps in Sunday's 35-30 loss.
The Rams exploited Smith in the passing game, creating mismatches that forced him to cover receivers even in zone coverages. While he leads the team with 45 tackles — 13 more than Lee — too many have come five yards downfield.
He's missed too many tackles and made few impact plays.
Twelve players have at least one tackle for loss and seven players have deflected at least one pass, but Smith has not found his way into either category.
"I think I've had some good plays and I think I've had some bad plays," Smith said. "It's about eliminating the bad plays. I've got to get more sound on coverage and make sure I'm making tackles. A linebacker's job is to tackle."
So how does your body feel?
"I feel normal," he said. "I feel like a linebacker for the Dallas Cowboys. There are no excuses at this level. We have to improve."
The NFL is a perfect example of social Darwinism. Smith is just trying to survive this season. This off-season was all about getting back on the field and proving anyone who thought his career was over that they were wrong.
Next off-season will be about football — not rehab.
The Cowboys took him with the 34th pick overall in the second round because he wowed them with his personality and his persona. Smith convinced Jason Garrett and Jerry Jones that he would play again and Dr. Dan Cooper, the Cowboys' team physician, did his surgery which gave the organization confidence the nerve would regenerate, giving Smith a chance to play again.
So Smith cherishes every play: the good ones and the bad ones. In an ideal world, the Cowboys would limit Smith to about 40 plays, but he'll never ask for a breather.
"I go into every game hoping I get a chance to play every snap," Smith said.
Well, that's not what's best for the Cowboys. Or Smith. If Hitchens is ready to play Sunday against Green Bay, he should start.
They rank 26th in the NFL in points allowed per game (24.0) and allow 107.5 yards and 4.2 per carry.
At this point, Hitchens is the better player - and it's not even close. Hitchens was in the midst of the best training camp of his career when he was injured. For the first time, he focused solely on middle linebacker in the off-season.
He changed his sleeping habits, giving up after-practice naps, so he would sleep through the night and altered his diet adding more salads, chicken and fish and drinking at least a gallon of water a day.
Hitchens went through his first full practice on Wednesday and expects to play Sunday against Green Bay.
"I felt good at practice," he said. "I just want to look at the video and see if my movements were fluid. It felt like they were but I want to see it."
If what he sees matches what he felt, then Hitchens expects to play against the Packers.
The Cowboys need him. So does Smith, it will make him a better player.