The investigation into a triple-fatal house fire that injured a fourth person in Cedar Hill early Thursday has shifted to a criminal investigation, police say.
Cedar Hill police are working with the fire department and the State Fire Marshal's Office to determine the origin and cause of the fire. Officials did not reveal what led them to believe the fire was intentionally set, but did say that neighbors reported hearing several loud sounds they described as gunfire around the time the fire started. Whether the sounds were intentional gunfire or some other sound associated with the fire is unclear.
Thursday, family friends who visited the scene were overhwhelmed with emotion.
Dawn Miller said she knew the family who lived at the home well. She said one of the people who died was a well-known pastor.
"He's volunteered in our schools. He's just an awesome gentleman. His wife and family have given themselves selflessly to the communities across this metroplex for years," Miller said.
Cedar Hill Deputy Fire Chief Rodney Smith said Thursday morning police officers were the first to arrive at the home near Lowe Drive and Lovern Street, and that as they arrived they spotted two people trying to jump from a second-floor window.
The officers ran over to help and, after learning there were people trapped inside, tried to enter the home but were forced back by heat and very heavy smoke. Cedar Hill police released bodycam video Thursday afternoon showing the officers helping two people escape the fire from the second floor.
Cedar Hill Police Sergeant J.R. Podany was among the first on scene. From a second-story window, he said two people were waving him over for help escaping the fire.
Body camera video shows officers standing on the hood a squad car assisting a man out of the window to safety.
"When you can actually be involved in a situation like this, it's just overpowering. To save a life, yes, it's pretty emotional too," Podany said.
I've spoken to friends at this #CedarHill house fire who have wonderful things to say about the pastor & family who live here. Police have not confirmed the victims, but we know 3 people died, 1 person was critically injured & 2 more survived. https://t.co/hFm3wOvddf@NBCDFWpic.twitter.com/pfYjsDGXDc

— Vanessa Brown (@VanessaBrownTV) February 28, 2019
When firefighters arrived moments later they immediately went into the home and pulled out four people, though three of them had already died, officials said.
A fourth person rescued from the home remained in critical condition Thursday night at Parkland hospital, family friends said.
The four officers who ran into the home were treated for smoke inhalation and cleared to go home; all of the officers are expected to be OK.
The names and ages of those killed in the home and their relationships to each other are not yet clear. Additionally, police have not said how the three died, their causes of death will be determined by the Dallas County Medical Examiner's Office.
"Our heart goes out to the family and victims of this tragic incident," Interim Police Chief Rodney Thompson said. "The heroism that our officers displayed to save the lives of the two victims who were able to get out of an upstairs window reinforces our commitment to public safety."
Cedar Hill Officers Respond to House Fire Incident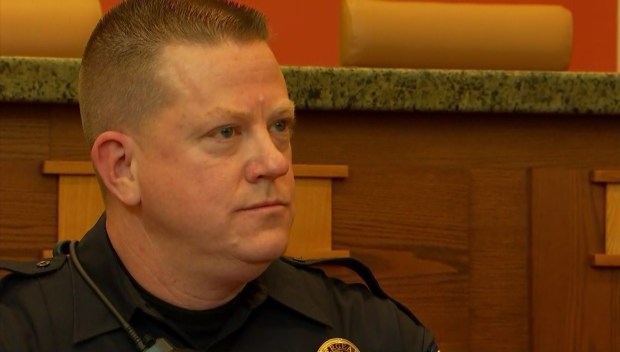 The cause of the fire has not yet been determined and an investigation is ongoing. Officials said Thursday morning there was concern about the structural integrity of the home. It was fixed Thursday afternoon, according to Cedar Hill's fire chief.
The Cedar Hill Fire Marshall and state fire marshal are investigating.
NBC 5's Tim Ciesco, Vanessa Brown and Meredith Yeomans contributed to this report.